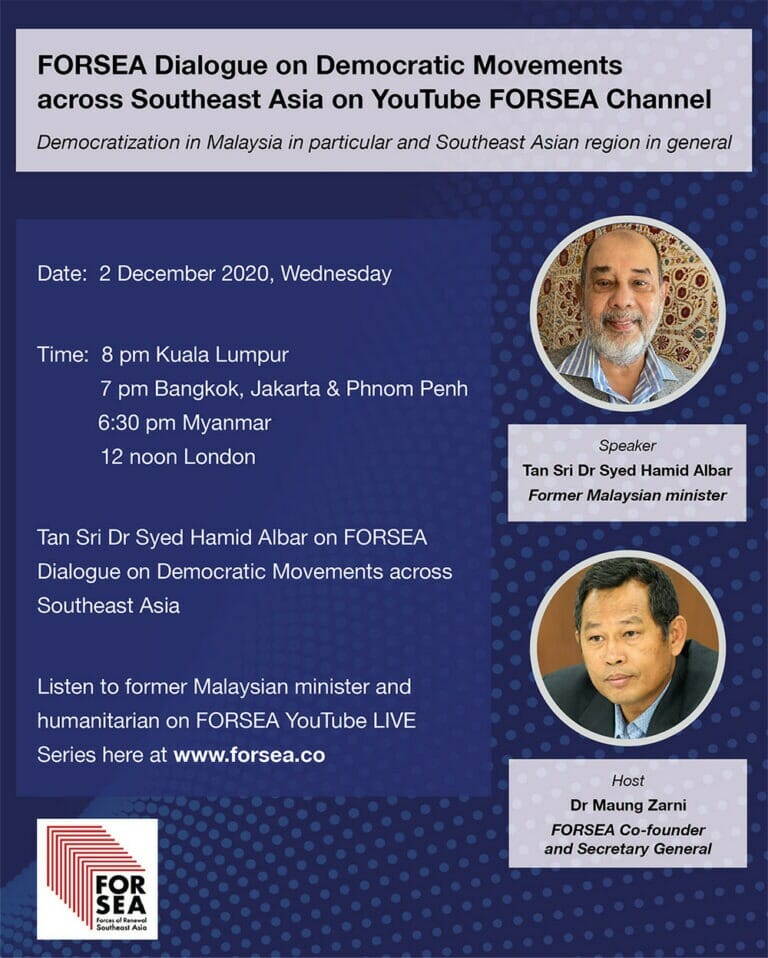 In May 2018 Tun Dr Mahathir Mohammad was sworn in as the world's oldest prime minister as the head of the Pakatan Harapan, or Alliance of Hope, which electorally ousted the ruling Barisan Nasional (BN) coalition, in office for six decades since independence from Britain.
Many human rights activists and democrats across Southeast Asia rejoiced in and were inspired by the victory of Malaysian democratic movement which drew on a diverse coalition of ethnic and religious communities.  Fast-forward to October 2020. 
 The democratic euphoria around Malaysia is no more. Today the shaky government of Muhyiddin Yassin is hanging onto power by the skin of its teeth. Thailand is rocked by sustained protests for reform by the youth. With Myanmar being in the dock at the International Court of Justice, Aung San Suu Kyi's re-elections no longer inspires or excites the region's human rights and dissident communities.
The British-trained international law scholar, politician and humanitarian Tan Sri Dr Syed Hamid Albar with decades of experience in government and international politics will share his thoughts on Malaysia's stalled democratization and the state of democratization in the region.
Join this Event
Date: Wednesday 2nd December 2020
Time: 8pm Kuala Lumpur || 7pm Bangkok, Jakarta & Phnom Penh || 6:30pm Myanmar ||12 noon London
Panelists:
Host:  Maung Zarni,  Forsea Co-Founder & General Secretary
Guest: Tan Sri Dr Syed Hamid Albar (Former Malaysian minister)
Watch live on the FORSEA YouTube Channel
More information –
Former Foreign Minister of Malaysia Dr. Syed Hamid Albar had been a Member of Parliament. He was appointed various ministerial positions, including Minister in the Prime Minister's Department, Minister of Defence, Minister of Foreign Affairs and Minister of Home Affairs. He has held important positions in several banks and organizations. He is the former Special Envoy to Myanmar, appointed by the Organisation of Islamic Cooperation (OIC). He is passionately engaged with global humanitarian issues. Dr. Albar is the Council Member of the Asian Peace & Reconciliation Council (APRC) and was the founder of HUMANITI Malaysia, an NGO involved in humanitarian work in Malaysia and ASEAN, particularly in Myanmar. Dr. Albar is also actively involved in the academic world. Currently, he is an Adjunct Professor in Asia e University, Kuala Lumpur.
---