"In the application of peoples' sovereignty, the FORSEA Board Members believe in democracy, either as representative or participatory form of government as the best vehicle for fair and equitable exercise of power among peoples." — From the Peoples' Charter for Southeast Asia, 2018
FORSEA – or Forces of Renewal for Southeast Asia – We are Southeast Asian democrats and rights campaigners committed to making our region fair, just and democratic.
As members of the Managing Board of FORSEA, we are committed to pursuing, through our educational initiatives, the advancement of human welfare, the protection of vulnerable national minorities, the propagation of fundamental human rights, labour rights, gender equality, the fostering of harmony between faith-based communities, the spread of ecological consciousness, and the promotion of a democratic ethos among future generations across Southeast Asia.
---
FORSEA Board Members
Pavin Chachavalpongpun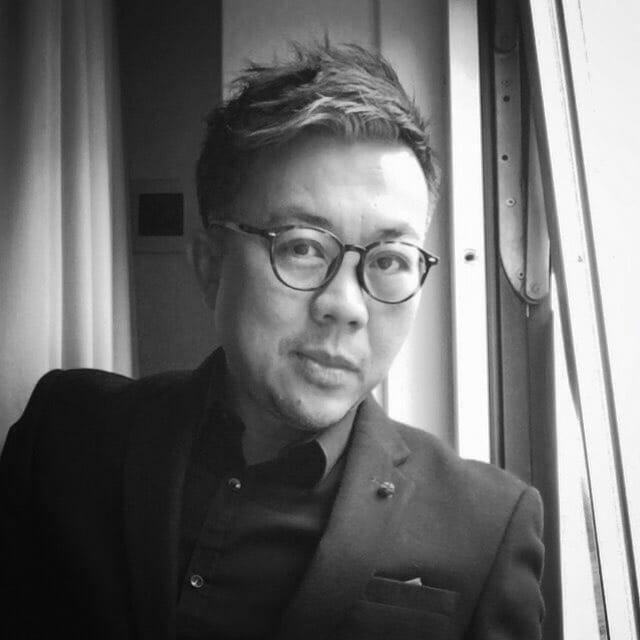 Pavin Chachavalpongpun is associate professor at the Center for Southeast Asian Studies at Kyoto University where he teaches Southeast Asian politics. He also teaches International Relations of Asia at Japan's Doshisha University. Earning his PhD from the School of Oriental and African Studies, University of London, Pavin is the chief editor of the online journal "Kyoto Review of Southeast Asia" in which all articles are translated from English into Japanese, Thai, Bahasa Indonesia, Filipino and Vietnamese. He has been a guest lecturer at a number of universities, from Stanford University, University of California at Berkeley, to London School of Economics and Cambridge University. His views on Thai politics and that of Southeast Asia have been sought by a myriad of international media, through articles and interviews.
Pavin has long been an advocate for democracy and human rights. As an academic, he has raised several issues pertaining to the state of democracy in his home country, Thailand. In 2011, Pavin led a nationwide campaign to free the political prisoner known as A-Kong, who had been jailed for committing lèse-majesté. Lèse-majesté, or the crime of injury to royalty, is defined by Article 112 of the Thai Criminal Code, which states that defamatory, insulting or threatening comments about the king, queen and regent are punishable by three to 15 years in prison. Ever since, Pavin has been critical of the royal institution in Thailand and how it has long interfered in Thai politics despite constitutional restrictions. Accordingly, he has been made an enemy of the state.
In May 2014, the military staged a coup overthrowing the elected government of Yingluck Shinawatra. The military, a long-term partner of the royal institution, took this opportunity to eliminate critics of the monarchy. The National Council for Peace and Order (NCPO), the governing body of the coup makers, summoned him twice to have his "attitude adjusted". Pavin publicly rejected the summons and the junta issues a warrant for his arrest while revoking his Thai passport. This situation forced him to apply for refugee status with Japan.
Five years on after the coup, Pavin has continued to voice his opposition against the intervention in politics of both the monarchy and the military. As a result, his family in Bangkok has faced periodic harassment. He himself faced protests by Thai hyper-royalists overseas when at his lectures and talks in foreign institutions. Seeing the need to promote democracy in his home country, Pavin, together with some colleagues, initiated ideas which later became the foundation of FORSEA.
In his role as academic, Pavin is a prolific writer. He has authored several books. Among them are: A Plastic Nation: The Curse of Thainess in Thai-Burmese Relations, Reinventing Thailand: Thaksin and His Foreign Policy, and as the editor, 'Good Coup' Gone Bad: Thailand's Political Developments after Thaksin's Downfall. His forthcoming books include: Coup, King, Crisis: Time of a Dangerous Interregnum in Thailand, and as the editor, Routledge Handbook on Contemporary Thailand.
His other contributions to the scholarly world include his interview with Professor Noam Chomsky on the Thai political situation, broadcast in 2018. He has also worked with international organisations in raising the awareness of the protection of human rights and the promotion of democracy in Thailand and the Southeast Asian region. FORSEA is his latest initiative designed to serve the above purposes, and ultimately, make his country of birth a more just and equitable place.
---
Michael Charney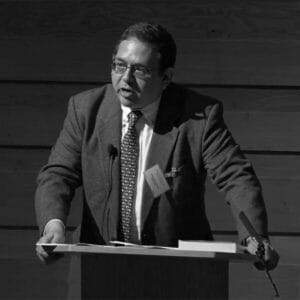 A native of Flint, Michigan, Michael Charney is a full professor at SOAS, the University of London, in the Centre for International Studies and Diplomacy (School of Interdisciplinary Studies) and the School of History, Religions, and Philosophies, where he teaches global security, strategic studies, and Asian military history. He received his PhD from the University of Michigan in 1999 on the subject of the history of the emergence of religious communalism in Rakhine and has published a number of books on military history in Southeast Asia and the political and intellectual history of Myanmar. He was a postdoctoral research fellow at the Centre for Advanced Studies at the (National University of Singapore) where he researched religion and migration, was a project professor at the Institute for Advanced Studies of Asia at the University of Tokyo, and has spent most of the last two decades at SOAS, where he was elected to the Board of Trustees in 2016. He is a regular commentator in the media on events in Myanmar.
Charney has been an advocate for both meaningful democratic reforms in Myanmar as well as religious and ethnic tolerance. He has participated in a number of events and debriefing sessions since the events of August 2017 to speak on the historical presence of the Rohingya within Myanmar, the legitimacy of their ethnic claims, and the validity of claims of genocide. Charney is an outspoken critic of the use and abuse of history by authoritarian states, the Tatmadaw's abuse of ethnic minorities, the National League for Democracy's and former icon Aung San Suu Kyi's failures in promoting civil liberties, and the so-called transition to Democracy in Myanmar.
---
Ramon Guillermo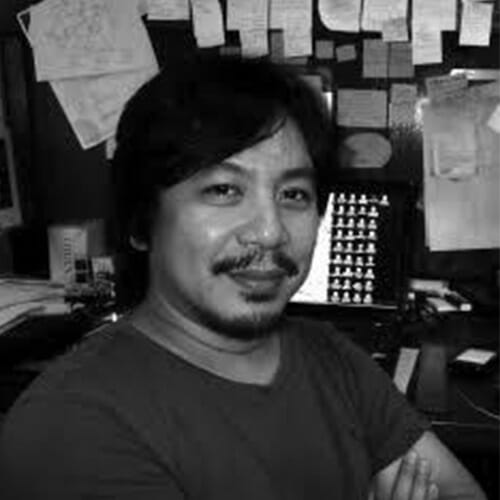 Ramon "Bomen" Guillermo is full professor at the Center for International Studies at the University of the Philippines Diliman (UP Diliman) where he teaches subjects on Southeast Asia and Europe. Before this, he taught for many years at the Department of Filipino and Philippine Literature at the same university. He obtained his PhD in Southeast Asian Studies (Austronesistik) from the Asien-Afrika Institut at the University of Hamburg, Germany. He has done academic research and fieldwork in Germany, Japan and Indonesia.
He has been a political activist since his days as a student journalist right after the downfall of the Marcos dictatorship and was involved in the national campaign against the US military bases on Philippine soil and participated in various human rights related campaigns. He helped found and organize the university-based organization, Congress of Teachers and Educators for Nationalism and Democracy (CONTEND) and served for two terms as the national president of the All UP Academic Employees Union (AUPAEU) which is the recognized union and negotiating unit of academic staff in his university. He also engaged in cultural and educational work among factory-based labor unions as former executive director of the Amado V. Hernandez Resource Center (AVHRC). He was elected as the faculty regent of the University of the Philippines System (2019-2020).
He has published several essays and monographs including the following books: Translation and Revolution: A Study of Rizal's Guillermo Tell (Ateneo de Manila University Press, 2009), Pook at Paninindigan: Kritika ng Pantayong Pananaw (UP Press, 2009), Makina ni Mang Turing (UP Press, 2013), 3 Baybayin Studies (UP Press, 2016) and Ang Diablo sa Filipinas ayon sa nasasabi sa mga casulatan luma sa Kastila (with Benedict Anderson and Carlos Sardiña Galache) (Anvil Press, 2016). He has also translated Walter Benjamin, Karl Marx, Tan Malaka, Wiji Thukul And Pramoedya Ananta Toer from their original languages into Filipino.
---
Sovicheth Meta
Sovicheth Meta is a translator and researcher at the Documentation Center of Cambodia (DC-Cam), which catalogues historical materials from the genocidal Khmer Rouge period from 1975 to 1979. She obtained her Bachelor of Arts degree in International Relations from the Institute of Foreign Language of the Royal University of Phnom Penh.
She first worked for DC-Cam in June 2018 as a volunteer for six months. During this time, she had the opportunity to conduct research on the Khmer Rouge regime, listen to survivors, and see primary source documents, which inspired her to seek and obtain a more permanent position at the center so she could contribute to her country's struggle for identity in the wake of the Khmer Rouge regime and educate the next generation. In 2019, Meta translated and published a Holocaust survivor's memoir title, Questions I Am Asked About the Holocaust into the Khmer language. As part of the Genocide Education in Cambodia, she had talked to and delivered presentation to hundreds of Cambodian high school students about the Holocaust in relation to the Khmer Rouge regime (Cambodian genocide). Meta aims to pursue a master's degree in Genocide and Global Study. She is currently working on DC-Cam's project of Peace and Human Rights in ASEAN.
---
Netusha Naidu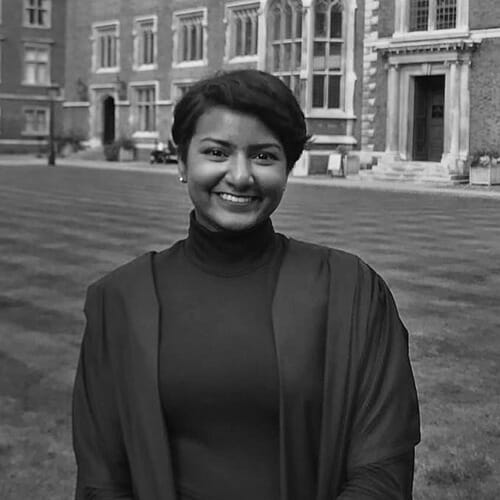 Netusha Naidu is the co-founder of Imagined Malaysia, a nonprofit education project that aims to broaden understanding of Southeast Asian – and specifically, Malaysian – history, by providing a platform to learn and critically discuss alternative historical narratives.
Imagined Malaysia has organized countless forums and dialogues, exhibitions, and published an annual journal to push historical discourse in Malaysia. Netusha hopes to participate in the effort of creating public awareness and education about the different narratives and stories that may be omitted from the official/master history. This is to not only change understanding of the nation's history but to deepen and evolve it to have a more inclusive and rich discourse. The crucial point is to address some of the present concerns regarding historical literacy in Malaysia.
Netusha completed an undergraduate degree in International Relations in University of Nottingham Malaysia Campus. Upon graduating, her dissertation "'Sly Civility' and the Lazy Malay: The Discursive Economy of British Colonial Power during the Pahang Civil War, 1891-1895" will be published by Amsterdam University Press as a chapter in their forthcoming edited volume Racial Difference and the Colonial Wars of 19th Century Southeast Asia. During her studies, she was also the co-curator of Jalan Merdeka: Traversing the routes to independence, an exhibition held at the historic Carcosa Seri Negara in Kuala Lumpur.
Netusha was awarded the Tunku Abdul Rahman Fund in St Catharine's College to pursue an MPhil in World History at the University of Cambridge. She recently completed a dissertation titled "In Search of Patani Raya: Malay Anticolonial Imaginaries at the Fringes of Empire, 1945-48". Through research on the anticolonial right to self-determination in the borderlands of Southeast Asia, Netusha is determined to work towards fostering transnational solidarities for an international order characterized by decolonization and nondomination.
---
Nursyahbani Katjasungkana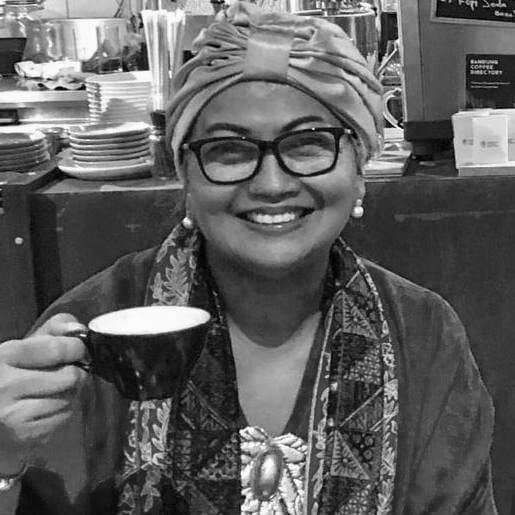 A native of Jakarta, Nursyahbani Katjasungkana (Nur) graduated from Law Faculty of Airlangga University (1978) where she specialized in Criminal law (1979). She holds post graduate diplomas in International Comparative Sexual Orientation Law from Leiden University (2012) and in Bridging the Research-Policy Divide from National Centre of Epidemiology of Australian National University (2012).
She was the country prosecutor of the Women's International War Crimes Tribunal on Japan's Military Sexual Slavery (2000), General Coordinator of The International Tribunal of 1965 Genocide and Crimes against Humanity (2015) and a member of the panel of judges at the Permanent Peoples' Tribunal on Myanmar (2017).
Nur served as a member of People Consultative Assembly (1999-2004) and was elected Member of Parliament (2004-2009) in Indonesia. She directed Jakarta Legal Aid Institute (1980-1993) and was President of Indonesian Environmental Forum (WALHI). She is currently the National Coordinator of Indonesian Legal Aid Association for Women and serves as Chair of Board of Trustee of Indonesian Legal Aid Foundation, a leading women and human rights organization in Indonesia. Nur was Commissioner of the National Commission on Violence Against Women (1998-2004) and the first Secretary General of the Indonesia Women's Coalition for Justice and Democracy (1998-2003). member of World Bank Advisory Council on Gender and Development (2013-2015).
She was an active member of the board of directors with Sexual and Bodily Rights Coalition in Moslem Society based in Jordan (2007-2014). In 2011, Nur co-founded Partnership for Good Governance, and chaired its Executive Board until 2013. She is a consultant on the women's legal rights and has been involved in several fact-finding teams on human rights violation during Soeharto era. She was also a newspaper columnist and had published 5 books on legal and violence against women issues and implementation of CEDAW. She had published articles and book chapters and presented research papers at international and national conferences. Her essays entitled "Indonesia in the Grip of Fundamentalism Legal Issues and Women Movement Responses" was published in The Future of Asian Feminism in Confronting Fundamentalism, Conflicts and neo-Liberalism (Cambridge Scholar Publishing,2012). Nur's essay "The Implementation on Domestic Violence Act in Indonesia" appeared in Family Ambiguity and The Domestic Violence in Asia (Sussex Academic Press, 2013). She co-authored Heteronormativity, Passionate Aesthetics and Symbolic Subversion in Asia (Sussex Academic Press, 2015), Creeping Criminalisation of LGBT in Indonesia (OutRight International 2017),and Propaganda and Genocide in Indonesia: Imagined Evil (Routledge 2018).
For her commitment and work, she was nominated as one of A Thousand Noble Prize (2006). In 2007 and 2008, GLOBE ASIA magazine put Nursyahbani Katjasungkana as number 51 of 99 powerful women in Indonesia.
---
Maung Zarni (aka Zarni)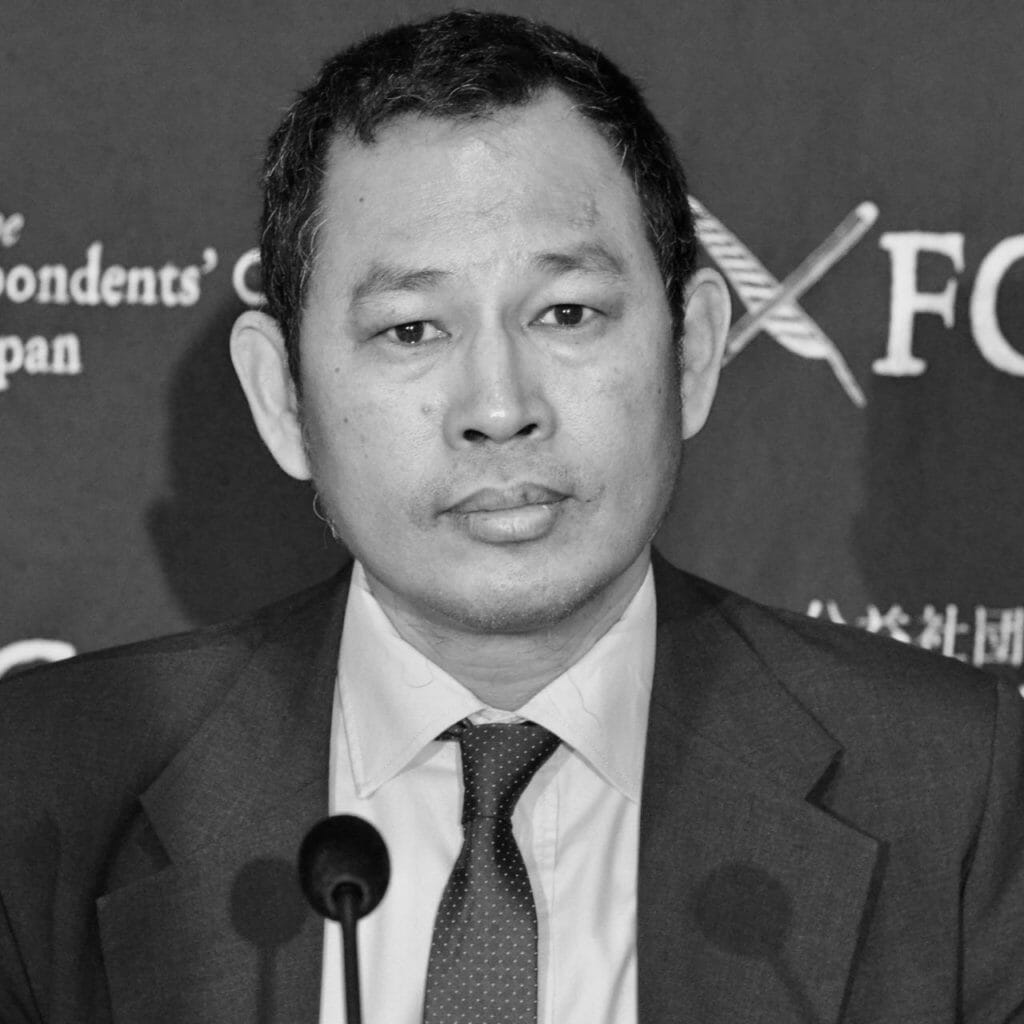 Maung Zarni (aka Zarni) is a UK-based exiled Burmese scholar and activist, co-founder and general secretary of FORSEA (www.foresea.co). Zarni learned community organising from his businessman-father and educator-mother in Mandalay, during the rule of General Ne Win in the 1970's. He left for the United States on the eve of Burma's 1988 nationwide uprisings. There he worked with Burmese dissidents already in exile and learned progressive politics including environmental and feminist activism from American peers.
In 1995, Zarni co-founded the Free Burma Coalition, using the Internet to build support for a worldwide consumer-boycott and divestment for the Burmese opposition led by Aung San Suu Kyi.
Based in Berkeley, Zarni also set up Institutional and Community Development Burma to enable university admissions and scholarships for political refugees studying development, conflict resolution and politics, in major universities in Britain such as the London School of Economics, as well as universities in the Philippines and South Africa.
In 2003, Zarni became disillusioned with Suu Kyi's leadership and the West's democracy rhetoric and began advocating strategic engagement with Burma's military leadership. In 2004, he initiated Track II negotiations with the support of maverick US State Department officials, between the Burmese military and outside actors such as British officials, ILO, and Germany's Green Party foundation.
Zarni studied chemistry and physics at the University of Mandalay. He has an MA in science education from the University of California and a PhD from the University of Wisconsin, (with a thesis entitled "Knowledge, Control and Power: The Politics of Education in Burma under military rule,1962-88"). He counts among his mentors the former US military interrogator of Nazi SS officers, the late Robert Lewis Koehl, and the neo-Marxist sociologist Michel W. Apple. Zarni has been a tenure-track assistant professor in the United States, and an associate professorship in Brunei. He is a non-resident Fellow with (Genocide) Documentation Center Cambodia (DC-Cam) and an adviser to Genocide Watch, USA.
He has held research, leadership and visiting fellowships, including at the Rockefeller Foundation's Next Generation Leadership, Georgetown Leadership Seminar, Harvard, LSE, and Oxford. He has written extensively on activism, human security, racism and genocide, published in leading media outlets worldwide and academic journals, appeared on CNN, BBC, and other major networks, and debated at the Oxford Union.
His study for the University of Washington School of Law, "The Slow Burning Genocide of Myanmar's Rohingya" (Spring, 2014), alerted the world to a genocide. In 2018, Zarni co-founded the Free Rohingya Coalition which he serves as its strategic adviser and initiated the Permanent Peoples' Tribunal on Myanmar in 2017.
In 2015 he received a "Cultivation of Harmony" award from the Parliament of the World's Religions, and was shortlisted in 2017 for Sweden's Right Livelihood Award. In 2018, Bangladesh's teacher association called Zarni "the conscience of a Buddhist Burmese society".   Named a "Top-Five" blogger in the region by Southeast Asia Globe, Zarni blogs at www.maungzarni.net .
---