Philippine presidents have long distributed resources and political protection to local and regional warlords in exchange for votes. After the 1986 EDSA revolution, restored cacique elites easily reconnected with sub-national strongmen as the Marcos regime never possessed the military or administrative capacities to govern locales through a centralized state apparatus. Regional crony plenipotentiaries merely superimposed themselves over an anarchy of local bosses. National oligarchs dealt more directly with these bosses after their crony overlords fell away. Although numerous variations in strongman rule ensued, two types came to the fore during the Estrada-Arroyo years (1998-2010): regional and urban warlords. The Ampatuan clan of Maguindanao and Davao City mayor Rodrigo Duterte best exemplified these regional and urban variants respectively.
Andal Ampatuan, Sr. began his political career in the 1970s as a paramilitary commander in Maguindanao. By the mid-1980s he had brutalized his way into the mayoralty of Shariff Aguak. Ampatuan repeatedly secured reelection and material resources through violence and intimidation. In 2001, he was elected governor of Maguindanao province and clinched an alliance with Gloria Arroyo premised on the exchange of votes for patronage. After delivering fraudulent votes that tipped the 2004 presidential election in Arroyo's favor, his son, Zaldy Ampatuan, was made governor of the Autonomous Region in Muslim Mindanao the following year. Presidential patronage bred warlord overreach as the Ampatuans bulldozed their way into illicit economic networks outside their main fiefdom. It is entirely conceivable the clan might have imposed its dominance on the entire Muslim south and acted as kingmakers in future presidential elections had it not been for the 2009 Maguindanao massacre. Faced with an electoral challenge for the governorship of Maguindanao from a rival family with superior genealogical claims to leadership, the Ampatuans responded with mass violence. Ampatuan retainers massacred their rival's wife, kinsmen, and several dozen journalists covering their electoral registration. Arroyo had no choice but to cut her clients off and the family ceased to be a major player in national politics. Rival families in Muslims areas excluded by growing Ampatuan influence scrambled to reenter now available government posts, resulting in a more equitable distribution of spoils between different clans. Supra-regional warlordism collapsed under its own weight.
Rodrigo Duterte's Urban Warlordism
Rodrigo Duterte's urban warlordism proved far more successful. The Duterte family migrated to the Davao region in southeast Mindanao shortly after the Pacific War. They joined Alejandro Almendras's political circle and soon became his most trusted retainers. After Almendras left for Manila to pursue a senatorial career, Vicente Duterte, Rodrigo Duterte's father, served as Davao's governor from 1959 to 1965. However, territorial divisions of Davao province that began in the late 1960s fragmented the commanding position of its governors. The Dutertes held a marginal place in Marcos's patrimonial network and were forced to render their region's riches onto the latter's crony Antonio Floirendo.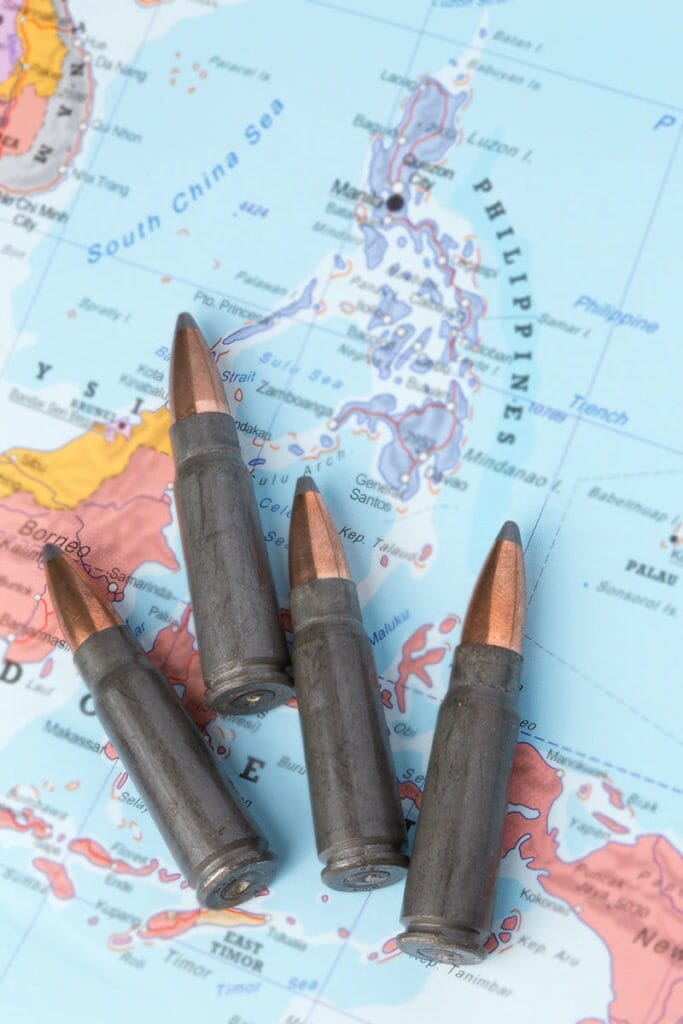 Crony plunder proved so destructive that Davao became a major area of NPA operations, with the most flagrant violence occurring in Davao City itself. Urban guerillas filtered in through Davao City's porous peri-urban hinterland to conduct indoctrination campaigns and assassinations. NPA death squads, known as sparrow units, gunned down soldiers and oppressive officials with impunity. AFP reprisals only increased popular resentment. Alsa Masa militiamen entered this volatile mix shortly after Marcos's fall. Made up of local toughs, ex-NPA triggermen, and disgruntled civilians coopted by the military, they added much to the general mayhem. Rodrigo Duterte gradually mastered this anarchy after he became mayor of Davao City in 1988. Using prior connections with the NPA, Duterte removed sparrow units from the city. He concentrated organized violence into the hands of personal retainers and converted the Davao City Police into his own private army. By the 1990s, all patronage and violence flowed from a single urban warlord. Dabawenyos (Davao City dwellers) enjoyed a basic, if harsh, stability. Death squad killings continued, but they were mainly aimed at social marginals and the mayor's personal enemies. Duterte presented himself as a frontier town sheriff who created order out of chaos, although he was more like a Visayan settler warlord unwilling to share city governance with rival politicos.
Davao City: Warlords' Central
Davao City's death squad served national oligarchs as well. Duterte used his brief stint as a congressman from 1998 to 2001 to cement ties with Joseph Estrada and Gloria Arroyo. As Arroyo faced increasing dissent over the course of her administration, she gave Duterte carte blanche to eliminate social activists. Although Duterte's relationship with Arroyo waxed and waned according to circumstance, presidential protection at key junctures enabled him to consolidate power over his urban fiefdom. Rather than attempt to disperse his influence across southeast Mindanao, Duterte deepened his hold over Davao City. Japanese and Chinese corporations invested heavily in Duterte's well-ordered de facto city-state, giving him further resources and sinecures to distribute among his followers. A secure and compact powerbase eventually allowed Duterte to catapult into the presidency.
Local and provincial warlords had been an integral component of national politics since the postwar period.
The literature on post-EDSA Philippine politics has focused on cacique restoration and the shortcomings of procedural democracy. While there can be no doubt that these are important issues, other things were happening. Restored caciques had to rebalance patronage chains and political privileges to accommodate parvenu political bosses. Resilient social reform movements posed a serious challenge to the sociopolitical status quo and could only be contained by disbursing favors and protection downward to sub-national strongmen who augmented the national oligarchy's coercive powers. Local and provincial warlords had been an integral component of national politics since the postwar period. Yet, unlike Alejandro Almendras, Ampatuan and Duterte had not spent prolonged periods in Manila acclimating to its legislative politics. During the Arroyo years, they increasingly influenced national affairs from afar by dealing out violence in their respective locales. As traditional caciques broke back into power, frontier warlords sought new ways to break out.
* Opinions expressed in this article are the author's own and do not necessarily reflect FORSEA's editorial stance.