Vawleipi map (world map) in ram tampi an tlau kha tuanbia (history) catlap ah tampi hmuh khawh asi. Yugoslavia ram hi vawleipi map in naite bik ah a tlaumi ram asi tining law ka palh men lai lo. Vawleipi ral voikhatnak (WW1) a dih lai July 20, 1917 ah Serbs, Croats le Slovenes miphun ramkhel hrawitu pawl nih Greece ram Corfu khua ah Yugoslavia ram dirh dingah hnatlaknak an rak tuah. Cu hnatlaknak cu Corfu Delaration tiah tuanbia ah theih asi. Cu hlan ah Yugoslavia rams hi Austro-Hungarian Empire pennak tang ah a rak um mi asi. WW1 lio ah Austrai-Hungary ral an rak sung i Yugoslavia cu independent ram a hung si.
Corfu hnatlaknak nih miphun (Serbs, Croats le Slovenes) le biaknak (Orthodox, Roman Catholic le Muslim) karlak ah tluk rualnak (equal rights) kha fek tein a rak dirpi. Cuticun Yugoslavia ram cu 1990 tiang rumra ngei ngai in world map ah hmuh khaw a rak si. A bik in President Josip Tito chan (1953-1980) ah Yugoslavia ram hi sipuazi (economics), ramkhel (politics) le ralkap thazang (military power) ah vawleipi nih upat tihzah mi ram pakhat a rak si. Cold War chan US hruaimi phu (Western Bloc) le Russia hruaimi phu (Eastern Bloc) karlak thazang rak i zuam asi lio ah Yugoslavia ram nih India, Egypt, Indonesia, le Ghana tbk ram nganpi pawl hruai in Non-Aligned Movement timi US siseh Russia siseh komhhlei duh lonak movement a rak dirh ngam mi ram pakhat a si. Nain cutluk rumra a rak ngei ve mi Yugoslavia rampi cu 1990 in 2003 karlak ah Croatia, Slovenia, Serbia, Macedonia, Montenegro le Bosnia and Herzegovinia tiah ram 6 ah a tthen tthek i world map in thlua a hung si.
2018 ah Yugoslavia in a tthen mi Croatia, Slovenia, Serbia le Macedonia ram pawl ah ka rak kal. Chankhat ah Yugoslavia tiah ropui ngai in theihmi ram zeiruangah dah ram 6 ah tthen tthek asi timi kong hi biatak tein study ka va tuah. Mi tampi he ton biaruahnak ka rak ngei. A ruang (factors) tampi an rak ka chim. An ka chimhmi a ruang tampi lakah a biapi ngai tiah ka hmuhmi hi a tang lei bantuk hi an si.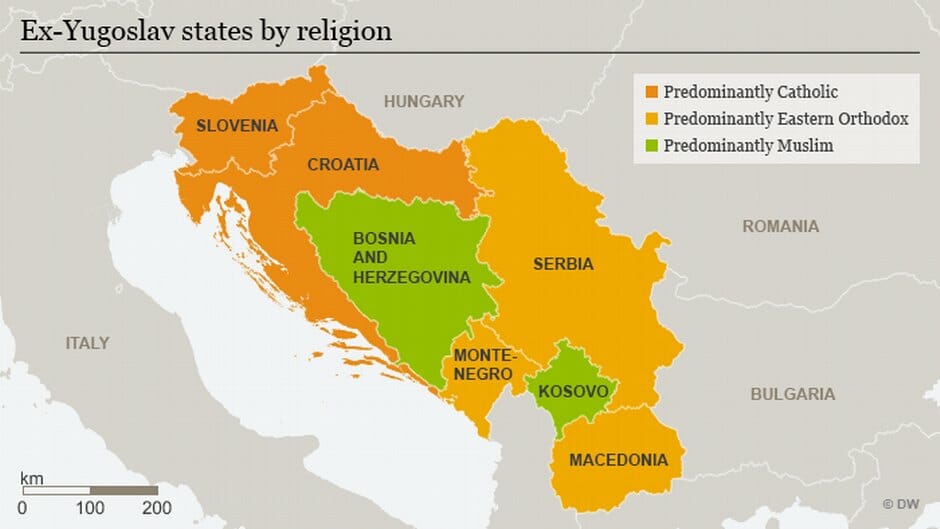 Pakhatnak, miphun tluk rualnak a zawr ruangah asi. Yugoslavia ram sernak ah a telmi miphun vialte hi tuanbia (history), nunphung (culture), miphun pennak (kingdom or political autonomy) le ram (territory/land) a ngeimi longte an si dih. Tahchunnak ah Macedonia cu Alexander the Great chan in Kingdom of Macedon tiah tuanbia ah theih zungzal mi a rak si. Yugoslavia ram hi miphun pakhat nih raltuk teinak in dirh a rak si lo caah miphun tlukrualnak kha a biapi tuk in chiah asi. President Josip Tito a nun chung 1980 tiang miphun tlukrualnak (racial equality) le lung rualnak (unity) an rak ngei kho. Asi nain Josip Tito a thih hnu ah miphun tlukrualnak zeimawzat a zawr i miphun pakhat le pakhat karlak lung rualnak a tlau.
Pahnihnak, sipuazi tlak ruangah asi. Josip Tito chan ah Yugoslavia hi sipuazi lei in a rak tthancho ngaimi ram a rak si. 1980 hnu ah sipuazi lei harnak (economic crisis) fak ngai in an ton. World Bank le IMF tbk ah leiba tampi a rak ngai. Rian ngei lo milu (unemployment rate) an kharh. Mirum le sifak thledangnak (economic inequality) vampang a chah chin. Cu tikah sipuazi lei in a tthancho deuhmi Slovenia le Croatia pawl nih Yugoslavia ramkomh chung in chuah in zalawng tein an mah le ram ser kha an rak i thim.
Pathumnak, biaknak lei buainak hi a biapi ngaimi a ruang pakhat asi ve. Slovenian le Croatian pawl hi Roman Catholic (RC) dueh an si. Serbia, Macedonia le Montenegro pawl hi Orthodox khrifa dueh an si. Cun Kosovo (Albanian) le Bosnian pawl hi Muslim dueh an rak si ve. Hi biaknak pathum karlak ah buainak fak piin a rak chuah i ral an rak tho. Cu buainak cu Croatian War, Bosnian War le Kosovo War tiah tuanbia ah theih an si. Hi biaknak lei a pehtlaimi buainak ruangah minung 130,000 nunnak a liam tiah Humanitarian Law Center nih a tial. Hi a cunglei ah ka lanhter mi a ruang pawl hi Yugoslavia ram rawhnak a chuah pitu chunglei a ruang (internal factor/conflicts) pawl cu ansi.
Lenglei (external factors) in a ra mi a ruang tampi zong cu an um ve. Culak ah a biapi ngaimi pahnih a um. Pakhatnak, Soviet Union tiah rak theihmi Russia rampi kha 1991 ah ram 15 ah a rak i cheu i Eastern Bloc timi communist ram pennak a rawk. Cu tikah socialist ram asi ve mi Yugoslavia zong a thazang a zawr thluahmah ve. Pahnihnak, communist ram asi mi Europe ni chuah lei ram pawl le Soviet Union in a chuak tharmi ram pawl nih communist uknak kal tak in democracy ram ser an rak i zuam hna. Phundang chim ahcun democracy cawl canghnak thazang a hung thawng thluahmah. Cu democracy cawlcanhnak cu socialist ram asi mi Yugoslavia ram a hung phan ve. Slovenia le Croatia tbk pawl nih independence lak in democracy ram ser an rak duh. An duh bang in independence an lak i democracy ram an ser bak ve. Cu ti cun Yugoslavia ram cu world map in a tlau thai. Yugoslavia ram in independent ram ser hnuah Slovenia, Croatia, Montenegro le Serbia ram pawl cu democracy ram an hung si. Nihin ah vawlei cung ram a tthacho bikmi ram 1st in 60th chung an lut dih tthan.
Nihin kawlram dirhmun kan zoh tikah Yugoslavia bang world map in kan tlau lai lo tiah amakhan ngam asi lo. A tlau zongah a pio kan ti hnga maw? Yugoslav ram ser tu pawl nih Austro-Hungarian Empire in independence lak duh ruang ah Corfu hnatlaknak an ngei ve bantuk in Mirang kut in luatnak caah Panglong hnatlaknak kan rak ngei i Union of Burma/Myanmar kan ser hi asi. Kawl siangpahrang pawl nih ukmi ram kan rak si ruangah Kawlram kan ser asi lo. Panglong ah miphun tluk rualnak a um lai tiah hnatlak asi ruangah kan dirhmi ram asi. Cucu Kawl cozah nih kum 70 renglo an buar i miphun tluk rualnak kan ngah lo pinah a dang kan covo vialte an kan lak piak dih.
Sipuazi lei in kawlram ah a sifak bik hi tlangcungmi kan si. Cu lakah Chin State cu a zual bik kan si hawi. Minung zakhat chungah a tlawmbik 73% cu sifak cazing ah kan lut. UN nih (UN poverty line) nikhat ah $ 1.90 nak tlawm deuh a hmu mi hna hi sifak cazing ah a chiah hna. Chin mi 100 ah 73 sifak cazing ah kan um. Cu tluk cun sipuzi lei harnak (economic crisis) kan tuar. A pio tuk micu Kawl hnu kan zul lo, kawlram ah kan um lo ahcun kan sii a fak lai ti ruahnak a ngeimi Chin mi tampi kan um rih.
Biaknak lei kan chim rih lai. Buddhist asi lomi biaknak paohpaoh cu kawlram mi sinak (second class citizen) a niam deuh ah chiah kan si. Nam neh kan si. Biaknak zalawnnak le tluk rualnak cu nihin tiang kawlram ah a um kho lo. Kawl miphun ruahnak ah Kawlram cu Buddhist ram asi tiah ruah zungzal asi. Khrifa le Muslim hna cu ramdangmi biaknak tiah zoh niam asi. Miphun rawitu ah zoh chih kan si. Hi kong cu tampi chim a hau lem lai lo. Biaknak kongah tluk rualnak a um lo zia ka ni fiang.
Ramkhel kong kan zoh rih lai. Tlang cungmi nih kan duh i Panglong ah min kan thut chih mi miphun tluk rualnak le mah tein khuakhan lai relnak nawl nihin tiang pek kan si lo. An kan pek lo cu um rih seh. Kawl cozah nih policy a phunphun hman in tlang cung miphun thlau an kan timh zungzal. Thah le nawn in kan ram le kan khua hmanh ah um ngam loin an kan chiah. Kum 70 hlei a phan cang. Nain an ngawl rih hlei lo.
Hi vialte thil sining zoh tikah Kawlram map hi world map ah zungzal a hmun lai kan tin ngam hnga maw? A hmun ding ta kan saduhthah asi hnga maw? Yugoslavia bantuk in ram 8 ah i tthen usih law sungh zatlaknak a um hnga maw? Kawlram map nak in Chin ram map tu hi world map ah fiang deuh in cuang seh ti hna hi saduh thah ngam deuh asi lai lo maw? Chin mi kan duhnak nganbik (national interest) cu Chin ram le Chin miphun himnak le zalawnnak asi. Cu kan national interest ngahnak ding ahcun Kawlmi he Map pakhat chungah kan um lo zongah a pio hnga maw?
Rual Lian Thang
Banner image: Chin Villiage. Wikipedia Commons
The Balkanization of Myanmar
English Language Summary
Deeply troubled UN member state with its multiple ethnic nations with distinct histories memories, linguistic traditions and conflicting group interests, Myanmar has been in the slow but discernible process of "Balkanization". Threre are three factors driving this process. First, Myanmar as a country was born out of a non-inclusive Panglong agreement, signed between the central colonial state based in Rangoon, represented by the martyred Bama or Myanmar leader Aung San and a handful of ethnic leaders from non-Bama regions such as Kachin, Chin Hills and Shan principalities or mini-states. For many non-signatory ethnic groups such as Rakhine, Mon, Ta'ang, and Karen, this founding document of the post-colonial Union of Burma has never been a binding document. Second, the relentless attempts by the country's successive military regimes since the coup of 1962 to forcibly incorporate non-Burmese ethnic regions, their cultures, and populations into the mainstream Myanmar social order through the process academically described as "Burmanization" and "Buddhistization" have not only deepened division between Burman and non-Burman ethnic groups, but also further alienated minority. Finally, after seven decades of the Burmese military's multi-faceted oppression including vicious military attacks, cultural and linguistic subjugation, forced religious conversions (to Buddhism), large scale land grab and unfettered resource and economic exploitation, the informed opinions among the overwhelming segments of non-Bama ethnic communities or nations – which make up between 30-40% of the country's total population – no longer feel any sense of belonging to the military-controlled, violent, politically non-inclusive racist Union of Myanmar. They began to explore self-determination or remedial secession, a similar political status of Kosovo as a way out from the union of Myanmar.