I was recently facilitating a workshop with 100 young women who are interested in furthering their participation in Malaysian politics. One of the matters I brought up was that our understanding of labour and economic value is very patriarchal which reduces the agency and importance of women who are stay-at-home mothers, creating higher barriers for women to have their needs reflected in policymaking decisions. Speaking of which, Christopher Choong, Deputy Director of Research at Khazanah Research Institute (KRI) had recently written an excellent paper on this subject, titled "Wages for Housework: Reflections for Malaysia".
As part of Undi18's 111 Initiative – SIRIKANDI programme, I was invited to deliver a capacity-building workshop on Malaysian political history. Immediately I thought of how patriarchal and elitist our narratives of political history continue to be — it is much too irrelevant for the participants. After all, they are going to be learning a lot about our postcolonial governance and pseudo-democratic institutions, a crash course on Malaysian political history would seize to be redundant.
What about women's history? While there remains a dearth of scholarship on Malaysian women's history, the historiography of women has come a very long way. Drawing upon the legacy of Marxist and radical black feminist thought, I devised a presentation that introduces key concepts and questions that demonstrate how we can acknowledge women's political action at all levels of Malaysian public and personal spheres. Thinking about this helps us expand our understanding of how women contributed to the development of Malaysian politics — from the household to Putrajaya. Resultantly, it compels us to see how women's labour, agency and needs are continuously overlooked and undermined in Malaysian public policymaking.
After this presentation, the participants engaged in a group Jamboard exercise where they gathered information about pioneering women in Malaysian politics. The observations and analysis were so insightful! 👩🏽‍🏫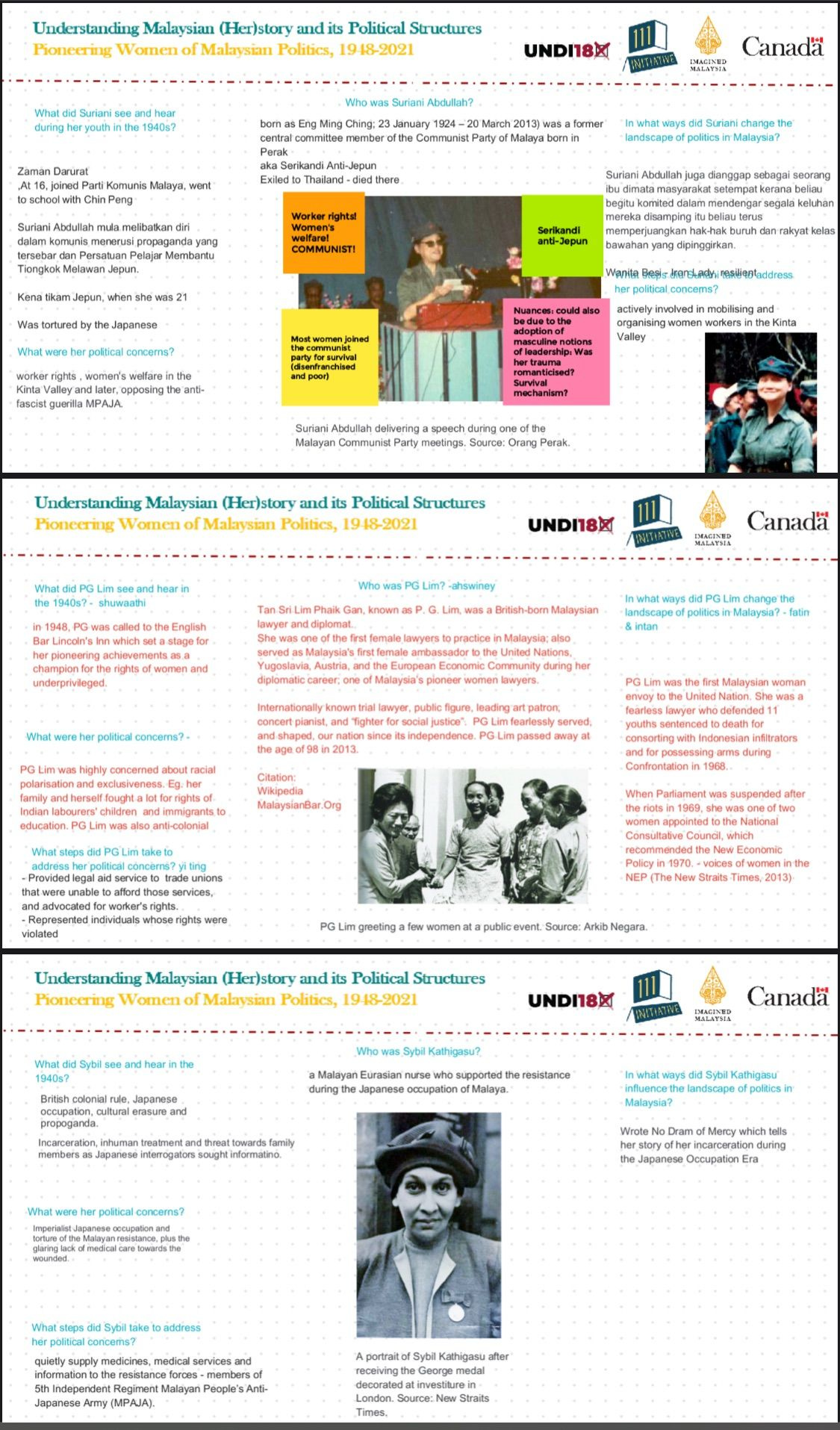 I was so happy to receive overwhelmingly positive feedback from the participants who noted the workshop was unique, accessible and memorable due to my "cikgu" style. I'm all about making history purposeful and meaningful in our everyday lives and I'm especially honoured that I get to make some sort of contribution to building a future that women in our country deserve. Looking forward to my next few workshops, and hope to be invited to conduct more because history does have a place in collective healing and transformative justice. ⚡️