The Western world, that is, the public, the media, commentariat and governments, have rightly fixed its gaze on Russia's crime of aggression and Moscow's accompanying war crimes including execution-style mass-slaughter in Ukraine. Thousands of miles away from Eastern Europe China is upping its geopolitical game beyond raising the war temperature towards the heavily-armed Taiwan, a US treaty ally.
In his 1 April bilateral meeting in Beijing with ex-Colonel Wunna Maung Lwin, Myanmar military regime's Foreign Minister, the Chinese Foreign Minister Wang Yi told the Burmese, "No matter how the situation changes, China will support Myanmar in safeguarding its sovereignty, independence and territorial integrity, and in exploring a development path suited to its national conditions."
Yi's words are a clearest act of Beijing's signalling to the Biden Administration that Myanmar is within the Chinese sphere of influence and out of bound for other external actors, most particularly the United States.
Recently, FORSEA asked Professor Noam Chomsky what he thought of the war in Ukraine and the re-emerging contest of global powers. The world-renowned public intellectual and activist wrote, "there is a global conflict between the US and China, dangerous and unnecessary. Russia is a minor actor in world affairs, a declining raw materials producer. Europe could be an independent actor, but chooses be subordinated to the US. Putin's great gift to Washington in the past months has been to drive Europe even deeper into Washington's pockets."
FORSEA Dialogue Series on Democratic Struggles will host a conversation with the famed Malaysian activist Hishamuddin Rais on the clash of imperialist powers and its global consequences.
Watch LIVE: THURSDAY 7 APRIL, 2022
2 pm (GMT/London) | 9 pm Kuala Lumpur

L I V E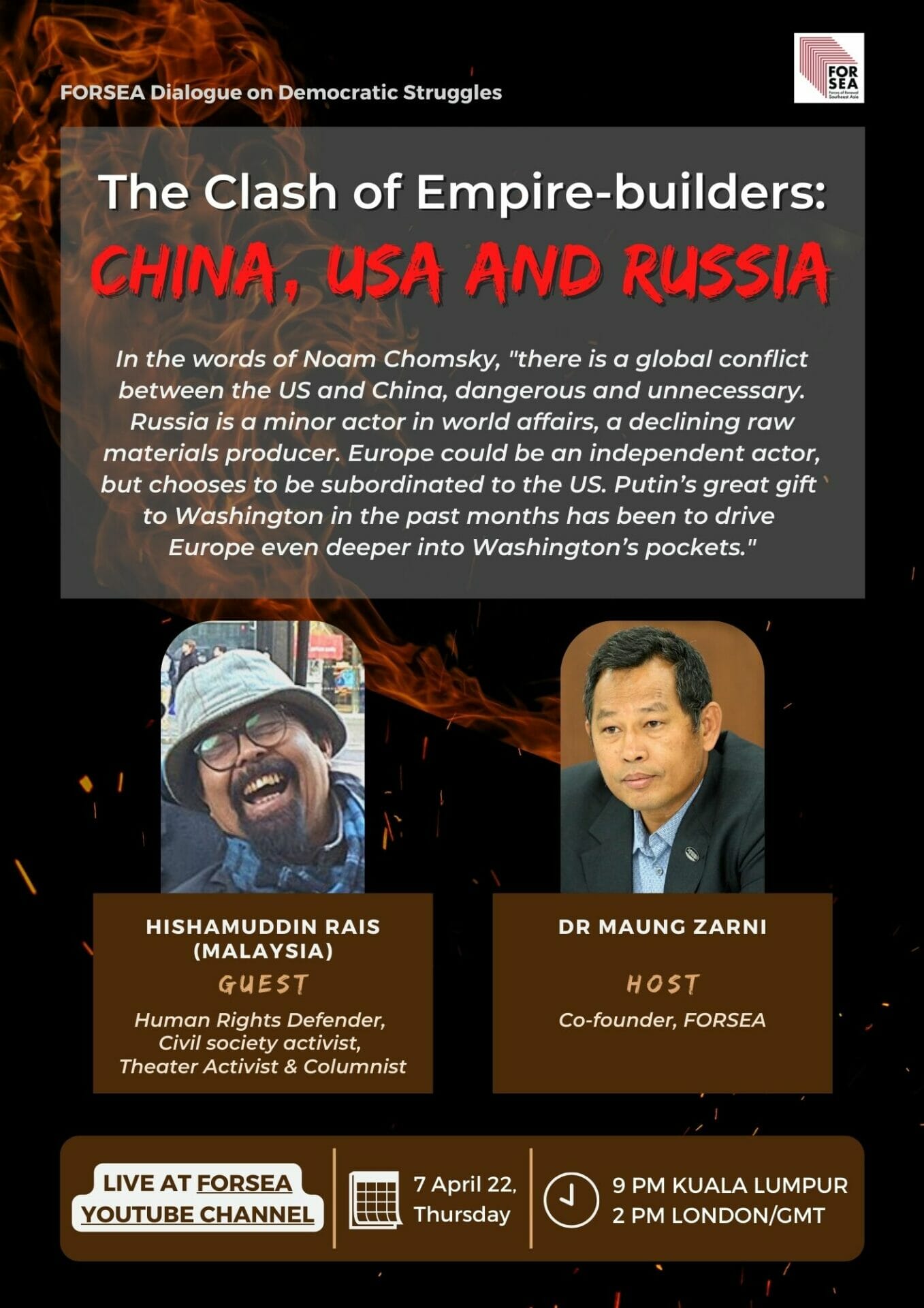 L I V E
FORSEA