On 7 May 2021, the FORSEA Dialogue on Democratic Struggles in Asia hosted a critical conversation with New Delhi-based Indian scholar,Professor Swagato Sarkar,  the founding faculty member and former Associate Dean of Jindal School of Government and Public Policy, in India, on topic of the 3 crises confronting the Hindu fundamentalist regime headed by Prime Minister Modi (see the discussion here on YouTube).
One of the crises identified by FORSEA's guest was Indian farmers' protests against new farm laws which were designed to help advance the commercial interests of large agric-corporations at the expense of hundred of millions of working farmers.
Ten days ago, Prime Minister Modi was forced to repeal all these pro-corporate agricultural laws, signalling the regime's defeat at the hands of a determined, well-organized and uncompromising farmers' movement.
This forthcoming FORSEA Dialogue on our YouTube Channel is dedicated to this historic and historically significant victory by the Indian farmers.
Our guest  on the dialogue series is Professor Radha D'Sousa, former lawyer who practised law  in the Supreme Court of Mumbai (formerly Bombay) in the areas of labour rights, constitutional and administrative law, public interest litigation and human rights, before she earned her PhD in geography from the University of Auckland, New Zealand.  She now teaches law and geography at the University of Westminister in London.
Information on Professor Radha D'Sousa and links to her scholarly works: Radha D'Souza: Westminster Research
Background reading on the topic: Interrogating the MSP Regime, Farm Laws and Agrarian Future in India – Pritam Singh, Shruti Bhogal, 2021 (sagepub.com)
---
WATCH LIVE: FRIDAY 3 DECEMBER 2021
London/GMT 1100am | New Delhi 4:30pm | Kathmandu 4:45pm | Dhaka 5:00pm | Yangon 5:30pm | Bangkok 6:00pm
---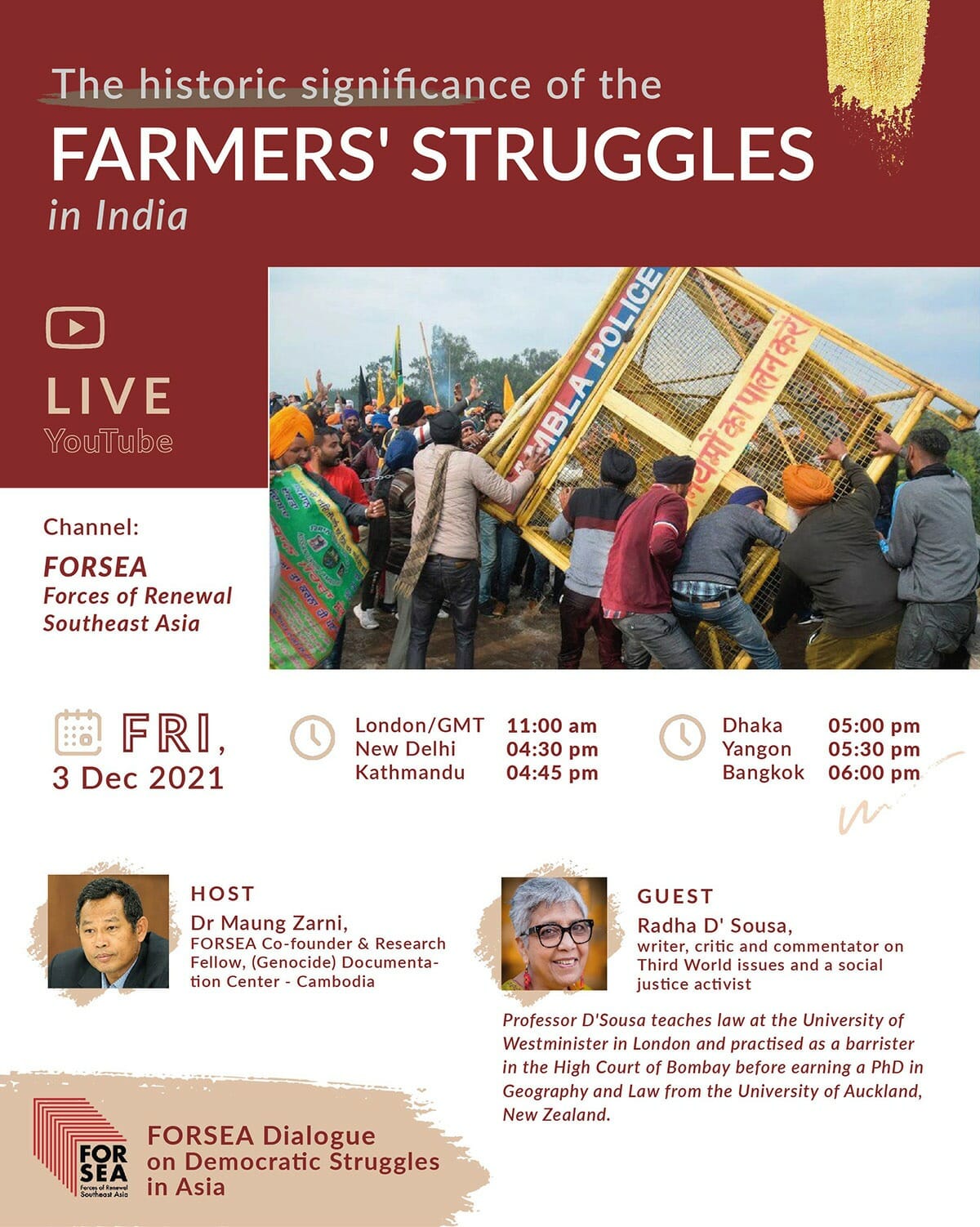 Banner Image: Farmers March to Delhi (2020) sitting protest. Wikipedia Commons