This two-volume handbook about sexualities across the globe emerges at a time when the topic has acquired a recognizably new significance. Sexuality and sexual politics are again a key battlefield for the deep political cleavages of our time, a point of coalescence of current struggles on the fate of the modern subject and of a social organization based on gender binarism.
Sexuality captures the powerful connection between the personal and the political. The field of sexuality studies is expanding. Critical knowledge of sexuality, the questioning of an essentialist view of sexuality as the expression of the subject's inner truth, is confronted today with powerful global tendencies to re-naturalize social hierarchies, with the reaffirmation of gender binarism and racialized boundaries. Politically, the rise of populism and the extreme-right in the Trump-era, fueled by related religious fundamentalisms, strengthens the responsibility of producing academically-sound work that can be widely read and used in our collective struggle for a fairer world. In the 21st century sexual freedom is met with both resilient oppressions that remain engrained in law and culture, and new forms of backlash perpetrated by self-proclaimed defenders of family values and children's best interests.
The Vatican is not the only religious institution to have chosen the sexual as a major battlefield. Advocates of fundamentalist streams within Protestantism, Buddhism, Hinduism, Judaism, and Islam too enforce sexual-moral injunctions, typically targeting women and sexual and gender minorities to advance their moral-religious agendas.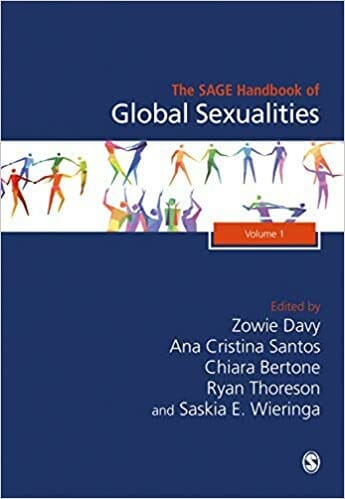 The Handbook represents a sustained effort to cover an array of topics, disciplines and geographical locations, reflecting the field in its time. It is characterized by its timely, controversial and plural approach to sexualities. The Sage Handbook of Global Sexualities consists of two volumes, seven parts and 43 chapters.
---
Section 1,  Understanding sexuality: epistemologies and methodological challenges, explores some of the methodological problems encountered by sexuality researchers.
A focus is trying to uncover how and why sexuality is a topic that comes with particular boundaries of what (ethically) can and cannot be done – as well as the implications these have for how we understand it, who has the authority to create those understandings and what epistemological and political parameters researchers are working within to get a glimpse of the topic area. The collection of chapters in this section suggest avenues to interrogate further, challenging previous understandings as societies across the world unfold and reconfigure sexuality through changing theoretical, epistemological, methodological, political and disciplinary conditions.
---
The chapters collected in section 2,  Enforcing and challenging sexual norms, explore how norms render social life intelligible and at the same time discipline us into acceptable behaviors. They typically are sedimented in laws and customary and religious practices, and are instilled and (re) produced in the home, the educational sector and through the media. Tradition is often invoked to justify a certain normative order, but tradition is based on selective memory and subject to political and postcolonial mythmaking. Norms guide us in our daily decisions and govern our desires. Yet individual people do of course possess agency; though we don't choose our desires we can make choices on how to live them. But not all choices are intelligible or acceptable. Those who do not live their gender or sexuality in accordance with prescribed norms are at risk in the political order they inhabit; they may be criminalized and stigmatized. Intelligibility of certain gendered and sexual norms varies in space and time, along axes of gender, age, ability, socio-economic status, religion and ethnicity. A central concept in this regard is heteronormativity which refers to a regime in which sexual conduct and kinship relations are organized in such a way that a particular form of heterosexuality becomes the culturally accepted 'natural' order.
---
In section 3, Undoing sexual categories, the ways how categories are developed and challenged are discussed. This section contains chapters on BDSM, polyamory, chronic illness and HIV-positive people, as well as on hijras in South Asia and the challenges of being queer and Xhosa.
---
Section 4,  Sexuality and the market, takes a look at the social process and the marketization of sexuality. Intimate and sexual relations are often conceived as governed by different logics than those of market transactions. Under the modern, western construction of intimate relations, sexuality and economy are presented as "hostile worlds" that should avoid contamination. Yet topics such as the viagrization of older people's sexuality, and the marketing of other forms of virility medicines as well as of  genital cosmetic surgery refute this argument. HIV prevention, pornography and sex work also have distinct relations to the market economy.
---
Section 5,  Sexual rights and citizenship (and the Governance of Sexuality), looks at how governments, law and rights have developed in various places across the world. Sexualities have informed citizenship from the outset, long before they became acknowledged as a constitutive element of the relationship between individuals and rights within and beyond the nation-state. Amongst the many criteria used to enforce hierarchies and to promote exclusion from equality were the different values ascribed to gendered and sexually embodied experiences.
---
Section 6, Sexuality and social movements, focuses on challenges to sexual governance. Sexuality has long played a role in social mobilization. Along with the global anti-slavery movement, activists and organizations pressing for women's rights are often hailed as one of the earliest influential transnational advocacy networks. In subsequent years, movements led by feminists, lesbian, gay, bisexual, and transgender (LGBT) people, people living with HIV/AIDS, sex workers, intersex people, and other constituencies have all emerged as powerful political forces. In distinctive ways, each of these movements around sex and sexuality has not only affected formal politics, but has reshaped cultural norms, patterns of material distribution, and even the language people use.
---
Section 7, Language and cultural representation, explores movements in the linguistic and cultural characterization of global sexualities through various mediums. Language both reflects and creates sexual and gendered norms and practices as a force that is both (re)productive, disciplinary and transformative. In language and in cultural representation, certain (racial, religious, ethnic) sexualities can be naturalized or abjected. Language can be used to both hide and reveal gendered and sexual subjectivities and practices. Sexual and gender dissidents can use cultural and linguistic practices to (re)imagine and represent themselves; conversely, language can praise, denounce and punish. Infused with moral injunctions of sin and pathology, for example, language has functioned as a major tool of enforcing heteronormativity and of abjecting non-binary persons – and it still does so in particular political and cultural settings.
Editors:
Zowie Davy
Centre for LGBTQ Research, De Montfort University, UK
Ana Cristina Santos
Centro De Estudos Sociais, University of Coimbra, Portugal
Chiara Bertone
Istituto di Ricerca Sociale, Italy
Ryan Thoreson
Center for LGBTQ Studies, the Graduate Center, the City University of New York, US
Saskia Wieringa
Amsterdam Research Center for Gender and Sexuality, University of Amsterdam, Netherlands