The saying "Never say, 'Never'" captures the relationship between the two militaries of Thailand and Myanmar.
Both militaries have for decades been deeply unpopular and chronically challenged by the respective populations. In the 1970s and 1980s the Thai military was one of the arms sellers to the anti-Tatmadaw or Burmese military freedom fighters such as the Karen National Union and later the All Burma Students Democratic Front. Today, both militaries are united in their Neanderthal approach to democratic state building: both oppose violently any push by new generations of democrats and human rights activists. They conversely collaborate to thwart, with varying degrees of organized violence and legalized repression, the democratic aspirations and grassroots struggles by their respective peoples.
After the universally unpopular military coup d'etat on February 1, 2021, Myanmar's Coup leader Min Aung Hlaing – who will in due course most definitely face ICC arrest warrant for his central role in the crimes against humanity – and possibly genocide – against the Rohingyas – sent a lengthy letter to his Thai counterpart, the junta chief Prayuth Chan-ocha, offering the (twisted) rationale for his decision for the coup. Last week the Thai military was reportedly caught delivering rice and other supplies to the Tatmadaw troops in the Karen National Liberation Army (KNLA) Brigade V area on the west bank of the Thai-Myanmar boundary river Salween.
Meanwhile, Myanmar and Thai dissidents and democrats inside the two countries and in diaspora have forged a common bond based on their shared democratic and human rights aspirations.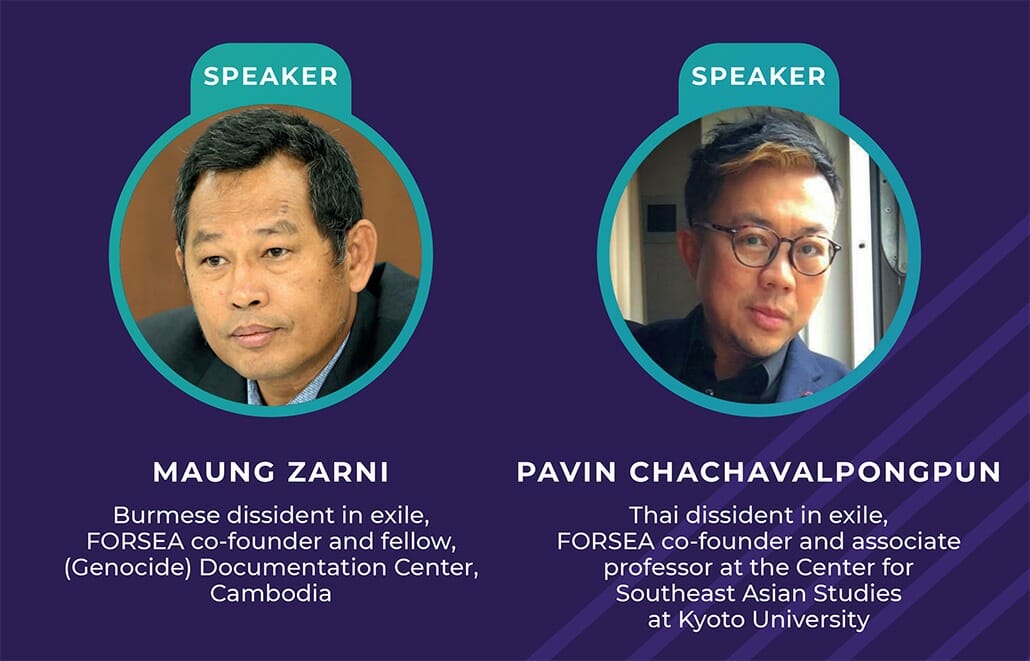 The two leading dissidents and scholars of Thailand and Myanmar will share their reflection on the emerging alliance between two democratic movements, which are determined to end the two militaries' usurpation of state power.
L I V E
Friday, 26 March 2021: 3:00 – 3:30 pm (Myanmar), 3:30 – 4:00 pm (Thailand), 5:30 – 6:00 pm (Japan), 8:30 – 9:00 am (GMT/UK)
Watch LIVE on FORSEA YouTube Channel.
Event Flyer –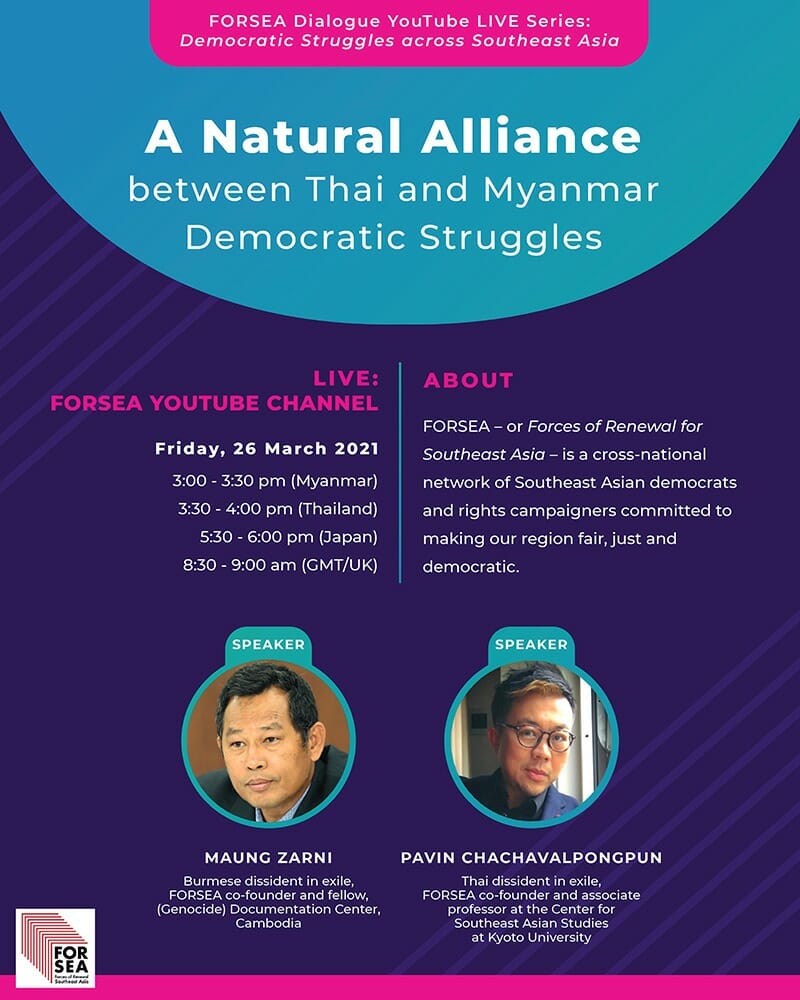 FORSEA
More:
Thai Army Denies Supplying Rice to Myanmar Forces by Reuters, Wire Service Content, March 20, 2021
The Karen National Union publicly object to Thai Military Supplying Rice to Myanmar Troops attacking Karen communities by VOA Burmese, 21 March 2021
Banner: Bangkok, THAILAND – February, 2021: Myanmar protesters a three finger salute to show symbolic gestures at front of UN Building to protest against the military coup. Image: Adirach Toumlamoon / Shutterstock.com