In the early morning of 8 July an intruder dressed in all black with a black mask broke into the residential flat of the Thai refugee academic and sprayed chemicals on him and his partner. The partner attempted to fight back while Pavin himself was immobilized momentarily. The commotion and screams woke neighbours who in turn notified the police.
Without being able to inflict further physical harm the attacker fled, unscathed. Pavin was informed by the Japanese police that the matter would be investigated by a special counter-terrorism team who asked for his silence and for him to not speak to the press.
The attacker remains at large, and Pavin broke his silence in his exclusive interview with the Washington Post last week.
As professional colleagues, fellow human rights activists and friends, we the Board of Directors of FORSEA condemn whomever is behind the attack, whether a botched attempt at grievous bodily harm, or an act merely designed to intimidate and/or silence Pavin's consistently critical and conscientious voice against the repressive policies and behaviour of both the military-controlled government of Thailand and the socio-pathological monarch.
---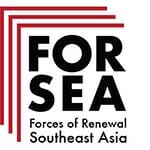 FORSEA is a cross-national solidarity network of democrats, dissidents and human rights activists from Southeast Asia. We stand behind our colleague Pavin. We condemn the Thai authorities whom we believe with good reasons may have been behind the most recent attack on a Thai dissident overseas. There have recently been other deadly attacks on Thai human rights defenders that point to the Thai authorities.
Read in the Washington Post
Another Post contributor is under attack — this time from Thailand
---
Banner Image: A talk from Pavin Chachavalpongpun at the East-West Center in Washington DC: "A Military Coup, A Royal Transition, An Election: Thailand's Domestic and Foreign Trajectories" where he discussed the current political situation in Thailand and the country's foreign policy, particularly its relations with the United States and China. Photo: East-West Center Washington DC, flickr, taken on July 22, 2019.