Coup, King, Crisis: A Critical Interregnum in Thailand
Edited by Pavin Chachavalpongpun
Foreword by Charles Keyes
Published by Yale Southeast Asian Studies, Monograph #68
---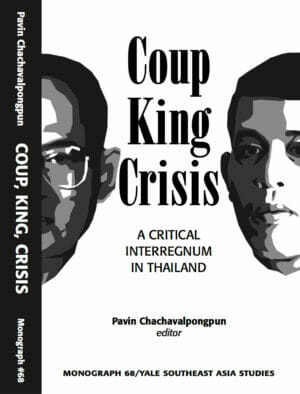 The prospects of the inevitable end of the Bhumibol era loomed large over 21st century Thailand. Events have now taken their course, and King Maha Vajiralongkorn has been crowned. The new King is beginning to make his presence felt, but in important ways Thailand is still in an interregnum: a time when the old order is dying but a new one struggles to be born.
The military staged a coup in 2014, primarily, it is argued here, to take control over the royal transition. Vajiralongkorn, the military, and the institutions of Bhumibol's monarchy began to construct a working relationship against challenges from the faction of former Prime Minister Thaksin Shinawatra, overthrown in a coup in 2006, but still popular and still a perceived threat to the power and position of the monarchy and the military.
This volume examines the royal transition in Thailand, from the 2014 coup through to the 2017 Constitution and the 2019 election. The royal transition sparked a crisis that pressured important institutions of the nation, from the politicized judiciary to the troubled Sanga or priesthood. The period of waiting has influenced all aspects of Thai governance, from foreign policy to economic management, to human rights and the spread of self-censorship. This volume, which brings together some of the leading writers on Thailand, is the first book-length analysis of this deep transition.
---
Contributors:
Introduction: Coup, King, Crisis: Time of a Dangerous Interregnum in Thailand — Pavin Chachavalpongpun
Conceptualized Thailand's Political Change
Chapter One: Understanding Thailand's Domestic Political Conflict: Democracy, Social Identity, and the "Struggle for Recognition" — Federico Ferrara
Chapter Two: Thai Ideas of Power: The Challenge of Legitimacy in Contemporary Thailand – Claudio Sopranzetti
The Monarchy in Focus
Chapter Three: Revisiting The King Never Smiles — Paul M. Handley
Chapter Four: King Bhumibol Adulyadej and the Neo-monarchy of Thailand — Charnvit Kasetsiri
Chapter Five: Managing Vajiralongkorn's Long Succession — Kevin Hewison
Chapter Six: Purifying Violence: Buddhist Kingship, Legitimacy and Crisis in Thailand's Ninth and Tenth Reigns — Edoardo Siani
Institutions under Military Rule
Chapter Seven: Assessing Monarchized Military and Khakistocracy in Post-succession Thailand — Paul Chambers
Chapter Eight: Challenging the Judicial Coup Myth: The Constitutional Courts and Thai Political Crisis — Sarah Bishop
Chapter Nine: Restoring Center, Defeating Margins?: Thai Buddhism's Struggle to Revive its Authority — Khemthong Tonsakulrungruang
Chapter Ten: The Thai Economy: A Lost Decade? — Kristlert Samphantharak
Chapter Eleven: The Military Regime's Foreign Policy in an Era of Rising Illiberalism — Pavin Chachavalpongpun
Opposition to the Military Regime
Chapter Twelfth: Putting the National Council for Peace and Order on Trial — Tyrell Haberkorn
Chapter Thirteen: Digital Censorship and Self-censorship under Thailand's Dictatorship — David Streckfuss
Chapter Fourteen: Dances with Dictators: NGOs and Military Regime in Thailand — Somchai Phatharathananunth
---
Editorial Reviews:
"Coup, King, Crisis is a multifaceted and deeply nuanced probe into the doldrums in which Thailand today seems becalmed. For those who want to understand the relations among Thailand's complex past, cultural values, and political tensions, this book is essential reading."
— Michael Herzfeld, Harvard University
"An indispensable and provocative volume for understanding Thailand's 'critical interregnum.' Experts in the field offer new and challenging insights—often revisionist—grounded in historical understanding, speaking to the present, and helping to write the future."
— Michael K. Connors, Xi'an Jiaotong-Liverpool University
"The 2014 coup was one of the most consequential in Thailand's long history of coups. Its aim was to reverse over two decades of democratization. If you want to understand the direction in which Thailand's politics is heading, read this book."
— Patrick Jory, The University of Queensland
---
The price of the book is USD28. Information here:
https://cseas.yale.edu/coup-king-crisis
https://www.amazon.com/Coup-King-Crisis-Critical-Interregnum/dp/1732610207
The e-book (Kindle) will be available late January. It will be translated into Thai later in 2021.