A flicker of light in Southeast Asia where autocracies have cast a long shadow
Imagine the iconic Tun Dr Mahathir Mohamad, who in his 20-odd years in power was widely viewed as one of the region's autocrats – the other two were General Suharto and Lee Kuan Yew – long associated with the much-discredited and mocked "Asian values" discourse, openly declare that 'democracy is the best form of government', despite its flaws, in front an audience made up of anti-dictatorship dissidents, anarchists, socialists, liberal democrats, new generation youth activists and feminists.
That was precisely what transpired in front of dozens of media lenses from Malaysia's national and regional outlets in multiple languages.
Southeast Asian activists from all walks of life
On the 16th of February, more than 300 Southeast Asian activists from all walks of life, writers, journalists, and artists descended on Publika in Kuala Lumpur to help launch the Forces of Renewal Southeast Asia or FORSEA.
FORSEA is the brainchild of three Southeast Asians now based in Europe and Japan who care deeply about the region of their birth and upbringing. Out of their love for the fellow Southeast Asians, across national, fictional borders they decided to gift the region's activist communities a unique organizational platform where multi-issue activists can come and share their updates, seek resources and ideas, and collaborate on social, political, intellectual, ecological battles of their choice.
In his address during the morning session, Dr Maung Zarni, the Burmese co-founder and FORSEA general secretary passionately shared the founders' liberal humanist vision and values of compassion and love of truth, embracing fellow humans, irrespective of their citizenship status, religious or national identities and countries of origin. FORSEA had been in the making in Europe and Southeast Asia for months with some of the key organizers shuttling between the two continents, one where Southeast Asia's colonizers hailed, and the one that suffered centuries of colonial serfdom. Eventually, solid foundations were laid, an international network of kindred spirits expanded and the blessings of the iconic figures – with seemingly incompatible names such as Noam Chomsky and Mahathir Mohamad – sought and obtained.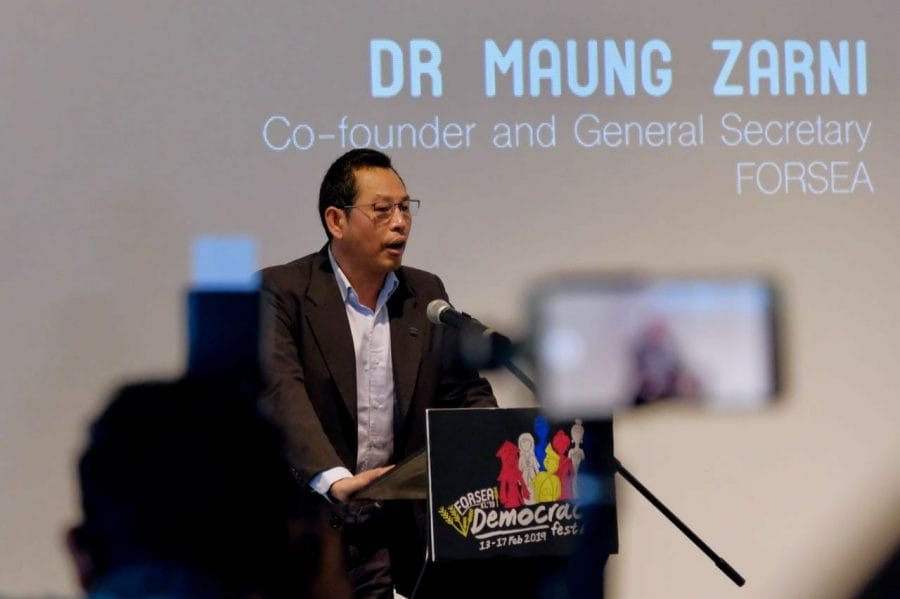 ---
The launch, an event of this long-struggle in the region dominated by authoritarian regimes for 2-3 generations since the end of WWII, was festive, if ritualised, in accord with local customs.
The drums rolled as the Malaysian Prime Minister Dr Mahathir stepped out of his maroon-coloured SUV—which he drove himself at the age of 94. Mahathir may have attempted to signal to the local supporters and doubters that he is still together, in body and mind, unlike his contemporary Prince Phillips of England, who had to give up his right to drive, after hitting a car in the UK some time before.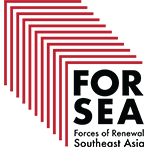 The choice of Publika, a favourite public spot for Malaysia's dissidents, replete with art exhibition halls, auditoriums and outdoor theatre at an upscale shopping mall-residential complex in the suburb of Kuala Lumpur, was symbol: No one dared to call the place "Republica" in the Malaysian feudal-autocratic context until the vice-like grip of the ancient regime of UMNO was overthrown at the ballot box last May.
Malaysian Prime Minister Mahathir opening the art exhibit of political artists from across the region after having delivered the keynote address during which he in effect repudiated the anti-democratic discourse of "Asian values", it is indeed an act that will be remembered by activists as one of the most significant developments.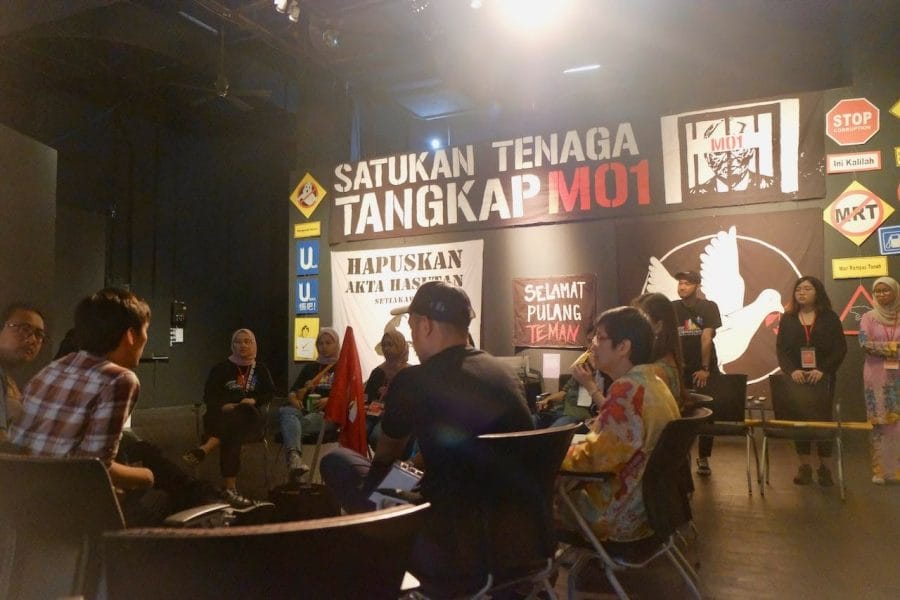 Dr Mahathir's keynote addressed buoyed the general spirit of the older generation Southeast Asians who had suffered persecution at the hands of the authoritarian regimes across the regime. One scholar of democratisation who specialises in the study of marginalized communities such as LGBT who was initially sceptical that Mahathir would say anything to promote democracy in the region. "I am really happy that the Old Man openly declared 'democracy is the best form of government'. It is fitting that the activist-speakers typically referred to Malaysia as "the beacon of democracy" in Southeast Asia despite its democratic transition in the early days.
Dr Mahathir speaking at the event –
---
Sandwiched between Mohamad Sabu, the seasoned veteran of anti-authoritarian "street activist" who now serves as the Defence Minister in Mahathir's cabinet and myself, "the Enemy of the State" insofar as Myanmar authorities are concerned, Dr Mahathir listened intently to 20-minute keynote (pre-recorded) by Professor Noam Chomsky, his contemporary known for his anti-US imperialism and its official human rights hypocrisy. Chomsky's address to the audience at the FORSEA launch was completely free of all-too-common white liberal paternalism and the typical arrogance of a professional or intellectual class.
And yet Chomsky walked all of us, activists and active citizens, through several centuries of democratic upheavals in "the West" and the elite disdain and push back against popular demand from below. The iconic dissident-intellectual left the FORSEA audience with a critical message:
Neoliberal policies have been designed to sharply concentrate wealth, enhance corporate power and undermine democratic systems, which are reduced increasingly to formalities while the majority of the population stagnate…. It's awfully helpful to remember that democracy has always been a highly contested concept. It's been feared and disdained among elites throughout a period of democratic revival in the world.
Professor Noam Chomsky's specially recorded keynote presentation –
---
Three accomplished younger generation activists – Professor Pavin Chachavalpongpun of Thailand, Malaysian youth leader Adam Adli and the Indonesian journalist Febriana Firdaus who is bringing to world's attention her country's brutal colonial oppression and economic exploitation in West Papua – intelligently dissected the messages of blessings and solidarity from Dr Mahathir and Professor Chomsky.
As FORSEA's board member Hishummudin Rais, a veteran revolutionary of Malaysia, noted it was Professor Pavin Chachavalpongpun's friendship with Chomsky which facilitated the recording of Chomsky's message of solidarity.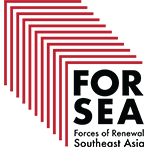 One of the painfully educative came – painfully for the patriarchal males in the audience – when a Malaysian Chinese social activist CT Wong took the discursive beatings from Cambodia's best-known and controversial social activist and feminist blogger Catherin Harry and Eng Chandy, coordinator of Gender and Development Network of Cambodia. Wong attempted to downplay the gender politics typically associated with patriarchy, which in turn – and rightly – came across as a clear sign of patriarchy-based being. Both "girls" launched a frontal assault on the patriarchy, starting with the make-up of the FORSEA board of directors, the opening session and the absence of women in leadership roles, even in the field of both activism and in the NGO industry.
---
The two-day launch attracted some of the region's most prominent activists and personalities including Nursyahbani Katjasungkana who has been at the forefront of the legal aid movement for women and girls in Indonesia, Rohingya blogger Nay San Lwin who has been instrumental in getting the word out about Myanmar's genocide against his people in resource-rich and strategic coastal region of Rakhine, Jose Luis Martin "Chito' Gascon who chairs National Human Rights Commission of the Philippines, the editor-in-chief of New Naritif Kirsten Han, barrister Ambiga Sreenevasan who led Bersih IV to the victorious overthrow of Najib's corrupt regime and former Attorney General of Indonesia Marzuki Darusman who now chairs UN International Independent Fact-Finding Mission on Myanmar leading the fight for justice and accountability for Myanmar's victims of genocide, war crimes and crimes against humanity.
Clare Rewcastle Brown, a FORSEA board member of the acclaimed Sarawak-born British author of The Sarawk Report: The Inside Story of 1MDB Expose", joined Ambiga Sreenevasan in an hour-long dialogue on the need for clean government, genuine institutional reform and the rule of law for Malaysia, as well as for all post-independent states.
The Swiss-educated Indonesian chair of the UN Fact Finding Mission on Myanmar took the floor to offer his deep analysis of how colonial, repressive and racist Southeast Asia's governing institutions remain even 60 or 70 years after the White Man's rule ended, largely owning to the devasting WWII, the great war among the European and Asian
The bird-eye's view of post-WWII politics in Southeast Asia was ably presented by Ajarn (Professor) Charnnvit Kasetsiri, former Rector of Thailand's most progressive Thammasat University and winner of the Fukuoka Academic Prize. He touched upon the case of Thailand, from its formative years to now becoming a new nation-state, yet plagued by relentless intervention into politics of the military. Hence, Thailand's democratization has seen a rough struggle between the elective and non-elective institutions.
Three members of the FORSEA Board of Directors who coauthored of the two books on Asia's Indonesian genocide of 1965 and the ongoing genocide of Rohingya in Myanmar had successful launches of their books. One of these books is on "Essays on Myanmar's genocide of Rohingyas" by Maung Zarni and Natalie Brinham which is available for purchase at US$10 (for oversea shipping at US$15) (Enquiries at ).
Lesser known though they may be younger generation dissidents and activists offered analyses and overviews of the states of affairs – democracy, human rights and the Environment – in Singapore, Thailand, Myanmar, Philippines, Cambodia, Vietnam, Indonesia and Malaysia. In the session on Thailand, two young Thais, Netiwit Chotiphatphaisal and Chonticha Jangrew, shared with the audience the problem with Thai democracy and the continued violence towards human rights against critics of the state. They also discussed the upcoming elections in Thailand, due on 24 March 2019, and emphasised that even though it may not put Thailand back on the democratic track, at least it opens up a space for expression among Thais.
Organisers had slight concerns that we would not be able to fill the 400-seat capacity hall, after the first day – filled with excitement and pomp, and big name speakers of Mahathir and Chomsky's stature. To our delight we were proven dead-wrong! All the talks and participatory teach-ins on youth movements, failures of People Power in the region, LGBT (euphemistically termed "heteronormativity"), and anti-corruption or clean government were very well-attended.
---
A strong contingent of Singaporean and Malaysian Chinese were seen deeply engaged in the teach-in led by PJ Thum, a Cambridge-trained historian and dissident from the autocratic Singapore, who has been barred from holding any meaningful institutional position in any Singaporean university.
No matter how intellectually and ideologically fulfilling, no conference on activism and revolution can be complete or called successful without music and dance. The audience was entertained by the extremely vibrant musical performances by politically and socially conscious bands from across Southeast Asia including The Garrison from Malaysia, Dendang Kampungan of Indonesia, (Myanmar's) Kachin Traditional performances and the acclaimed dissident vocalist Mun Awng. Scores of activists, young and old, took to the dance floors, singing and dancing to the protest song and waving revolutionary flags. Finally, a special mention is due for all the hard work from the 30 Malaysian volunteers who worked tirelessly to make this event a success. You were amazing.
---
The famed American Russian-Jewish anarchist from New York City once famously said, "I don't want to be a part of your revolution, if I can't dance." Who said revolutionary movements for democracy, universal brotherhood and sisterhood and human rights for all have to be boring and serious?
If the two fun-filled nights of the launch of FORSEA's mission – of fostering and nurturing a new generation of humanist Southeast Asian democrats with ecological and gender sensitivities – were any indication the involvement in and helping FORSEA grow as a new political movement is never going to be boring, business-like. Just as learning should not be fun-less, neither should progressive activism of FORSEA. Come have fun. We'll create another world while dancing and singing away the nights after a long-day of arduous work fighting theft, tyranny, feudalist hold-over and the vestiges of European colonialisms across the region.
FORSEA's job will be to turn the flicker of light that we all felt in Malaysia into a sustained fire of democratic movements.
FORSEA Guiding Principles
to foster genuine solidarity ties among leading dissidents engaged in the revolutionary and/or reform movements against dictatorial and authoritarian regimes in the ASEAN region;
to explore concrete ways for strategic collaborations among different networks of dissidents and cross-national boundaries with political movements across the region, and beyond;
to establish a political tradition of collaboration beyond national, racial and religious silos so that People Power movements can mount effective revolt against the authoritarian regimes, and their models of racial/nationalistic developmental authoritarianism;
to coordinate efforts across the region designed to propagate progressive ideas and ideals such as democratic ethos, gender equality, ecological sensitivity and economic and social justice, through mass media and popular art mediums (films, songs, cartoons, performing art, posters, creative writings, etc.).
---