FORSEA stands in solidarity with the Allied Thammasat and Protest Group (กลุ่มแนวร่วมธรรมศาสตร์และการชุมนุม) in demanding the immediate reform of the Thai monarchy, placing it strictly under the constitution.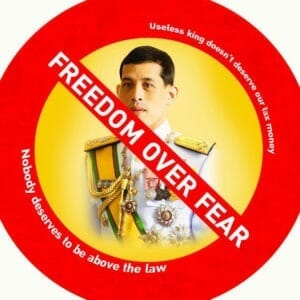 For several decades now that the so-called "constitutional monarchy" of Thailand has proven to be fraudulent. Under the reign of King Bhumibol Adulyadej, the monarchy regularly intervened in politics, cooperating with the military in overthrowing challenging civilian regimes, and fiercely dominating its own power position within the Thai political realm. Therefore, the call from Thammasat University students is both timely and crucial in moving Thailand forward in the democratic direction.
FORSEA wholeheartedly supports the ten demands of the Allied Thammasat and Protest Group, mostly regarding the role and responsibility of the monarchy. In particular, FORSEA wishes to highlight some of their demands as key indicators should the Thai monarchy deserve to remain as an apolitical institution of Thailand, or if not, be abolished as antithetical to democracy.
Among the demands are:
Separation of the king's personal wealth from the royal palace's vast fortune held by the Crown Property Bureau. In 2018, King Vajiralongkorn took sole possession of the CPB with an estimated fortune of US$30 billion.
Forbidding the monarchy from playing any role in politics or endorsing any military coups. Thailand has had the most coups in Southeast Asia. Most of them were endorsed by the last King, Bhumibol Adulyadel. There is no denying that the current king has forged closed ties with the military, even appointing General Apirat Kongsompong as the army chief.
Nullifying the order that permitted the transfer of a military force under Vajiralongkorn's private military unit. This is to ensure that the monarchy will not depend on the military to support itself and that the military is to be depoliticised.
Abolishing the excessive glorification of the monarchy and ceasing all the state propaganda on the monarchy.
Investigating the deaths of critics of the monarchy. Since 2016, there have been almost 10 dissidents being abducted, forcedly disappeared, and killed. The latest case of Wanchalearm Satsaksit exemplified the vicious tactic of the palace in eliminating its enemies.
FORSEA is working towards making Thailand a truly democratic state.
---
องค์กร FORSEA ขอสนับสนุนข้อเรียกร้อง 10 ประการ ตามประกาศกลุ่มแรวร่วมธรรมศาสตร์และการชุมนุม ฉบับที่ 1 โดยเฉพาะในส่วนที่เกี่ยวกับการปฏิรูปสถาบันพระมหากษัตริย์ เป็นระยะเวลาหลายทศวรรษแล้ว ที่สถาบันกษัตริย์ไทยกลายมาเป็นป้ญหาหลักของไทยและเป็นอุปสรรคต่อประชาธิปไตย กษัตริย์ภูมิพลได้แทรกแซงการเมืองตลอดเวลา สนับสนันการทำรัฐประหาร โดยการร่วมมือกับกองทัพ เพื่อที่จะคงไว้ซึ่งพระราชอำนาจทางการเมือง ทำให้ระบอบการปกครองของไทยภายใต้ประชาธิปไตยอันมีพระมหากษัตริย์เป็นประมุข ไม่เคยเกิดขึ้นจริง เพราะกษัตริย์ไทยไม่เคยอยู่ภายใต้รัฐธรรมนูญ การเรียกร้องของนักศึกษาธรรมศาสตร์จึงเป็นการเรียกร้องที่ถูกาละเทศะ และเป็นการนำพาไปสู่ความเป็นประชาธิปไตยที่แท้จริง
ในข้อเรียกร้องทั้ง 10 นั้น องค์กร FORSEA ให้การสนับสนุนอย่างเต็มที่ ความตอบสนองจากสถาบันกษัตริย์จะเป็นเครื่องวัดว่า สิ่งที่เรียกร้องไปนั้นได้ผลหรือไม่ สถาบันกษัตริย์จำเป็นจะต้องปฏิรูปตัวเอง หรือหากยังเป็นสถาบันที่เป็นอุปสรรคต่อประชาธิปไตย ก็สมควรได้รับการยกเลิกไป ในบรรดาข้อเรียกร้องนี้ FORSEA ขอย้ำประเด็นต่อไปนี้เป็นพิเศษ
แยกทรัพย์สินส่วนตัวของกษัตริย์ออกจากสำนักงานทรัพย์สินส่วนพระมหากษัตริย์
ยุติการแทรกแซงการเมืองของกษัตริย์และการเซ็นรับรองรัฐประหาร
ยกเลิกการโอนกำลังทหารไปสังกัดในกองทัพราชวัลลภ
ยกเลิกการโฆษณาชวนเชื่อของสถาบันพระมหากษัตริย์
ยุติการทำร้ายผู้ลี้ภัยและให้มีการสอบสวนกรณีต่างๆ เหล่านั้น
องค์กร FORSEA หวังว่าจะเป็นส่วนหนึ่งในการสร้างสังคมประชาธิปไตยใหม่ของไทย