Maung Zarni, a leading Burmese scholar-activist & FORSEA co-founder, is scheduled to speak on the concluding panel at "If this is a man – Exclusions in the Modern World ", Auschwitz's 2-day Bi-Annual International Education Conference on 7-8 July.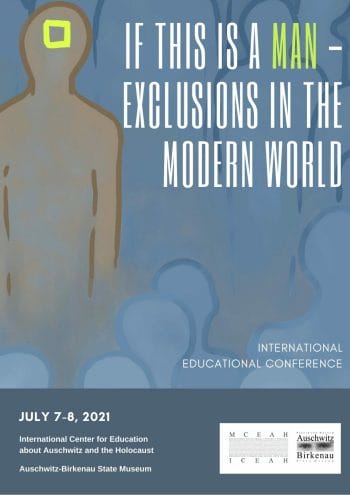 Zarni's panel is scheduled for 7 pm Central European Standard Time on 8 July (Thursday).
The conference kicks off at 1 pm Central European Standard Time on Wednesday July 7 and can be viewed by public at:
---
"Millions of people around the world are persecuted because of their religion, skin color, gender, or sexual orientation. Our history shows that we still haven't learned the lesson of the past. It is therefore absolutely imperative to raise awareness about our contemporary responsibility and the impact that our behavior or attitudes have on the process that can lead to a catastrophe.
The international debate is an opportunity to emphasize the role that Auschwitz and other museums and memorial sites play in educational process because the history of Auschwitz is not only a sequence of historical events, but above all it is a universal experience passed on to us by the Witnesses, which can teach us something for the future."
On 7 July, the conference opens with remarks by Dr. Piotr M. A. Cywiński, Director of the Auschwitz-Birkenau State Museum and Andrzej Kacorzyk, Director of the International Centre for Education. Professor Gregory H. Stanton, the renowned genocide scholar and founding president of Genocide Watch is scheduled to deliver Inauguration Lecture at 1:30 PM Central European Time.
Exiled in UK, the Burmese native Maung Zarni blew the whistle about Myanmar's genocide of Rohingyas as early as 2012 at a public forum on nationalism and violence at the Foreign Correspondents Club of Thailand.  He co-authored (with his wife and scholar colleague Natalie Brinham writing in pseudonym Alice Cowley) a 3-year research study "The Slow-Burning Genocide of Myanmar's Rohingya" (Pacific Rim Law and Policy Journal, 2014) and subsequently a historical paper "Reworking The Colonial-Era Indian Peril: Myanmar's State-directed Persecution of Rohingyas and Other Muslims" (Brown Journal of World Affairs, 2017).
On the eve of European Union's Myanmar policy review in March 2017, Maung Zarni travelled to Auschwitz-Birkenau Concentration and Extermination and made an unsuccessful appeal to honour Europe's pledge "Never again!" regarding his country's unfolding genocide against Rohingyas.
During the Covid-19 pandemic lock-down he co-produced with the award-winning UK-based Uzbek war correspondent and documentary filmmaker of Exiled Shahida Tulaganova entiled "Auschwitz: Lessons Never Learned", a 50-minute educational film based on the group study tour of Auschwitz he organized with the cooperation of the Auschwitz-Birkenau Museum.
Auschwitz Lessons Never Learned from Shahida on Vimeo.
As the Burmese coordinator of the Free Rohingya Coalition, Maung Zarni initiated a Genocide Podcast Series where leading scholars and campaigners against genocides and other atrocity crimes share their thoughts with on-line audiences.
"I am extremely honoured to be asked to share my thoughts and research findings on exclusions at the Auschwitz conference, alongside survivors and descendants of other genocides including a Roma activist from Romania and a Bosniak researcher from Srebrenica, as well as a historian and writer representing LGBT communities", said the Burmese activist.
He continued, "I will stress that discrimination and exclusions are a slippery slope towards extermination, which is not an event, but a slow and state-sponsored process of mass-destruction."
One of the thematic issues the concluding session will address is the role of bystanders, both UN member states and global citizens, in letting genocides happen again and again since the closure of Auschwitz Extermination Camp by the Soviet Red Army in January 1945. (For an expert discussion on the subject, watch the Oxford Union panel discussion entitled "Genocide: Why We Let It Happen" .
At the University of Wisconsin at Madison, Maung Zarni completed his PhD on the Burmese dictatorship under the joint supervision of the late Robert L. Koehl, a pioneering American scholar of Himmler and SS and former US military intelligence surveyor who interrogated junior and mid-ranking SS officers in the defeated Germany immediately after the World War II, and the leading educational sociologist Michael W. Apple.