On Sunday September 5, 2021, FORSEA is hosting a critical discussion on this vital subject of how post-colonial political regimes across Southeast Asia attempt to limit the intellectual space, kill the natural curiosity of the region's young minds, and neuter the universities' potential to contribute to the progressive, democratic transformation of society – and the ASEAN region with 500 million inhabitants variously oppressed under autocratic and quasi-democratic regimes.
The two leading scholars of Southeast Asia – Thongchai Winichakul, Emeritus Professor of History at University of Wisconsin-Madison and Michael W. Charney, Professor of Military History and Southeast Asian Histories at SOAS University of London – will share their professional perspectives on the ways in which higher education in the region has been misused and manipulated to promote what Michael W. Charney calls "State-Think".
The recent news about the scheduled closure of Yale-NUS College in Singapore in 2025 came as no surprise to any scholar who pays close attention to the inseparable link between the types of political regimes and the institutions of higher learning. It was just a matter of time before the unholy alliance between Yale University, one of the world's most intellectually vibrant universities governed autonomously, and the National University of Singapore (NUS), under the tight reign of Southeast Asia's authoritarian city-state, collapsed. In the 2021 World Press Freedom Index, Singapore ranked 160 in freedom of expression out of a total of 180 countries assessed. It criminalizes homosexuality, punishable with up to 2-years imprisonment – which NUS governors defend, who in turn cancel exhibits, talks, and courses, and ban books deemed "insufficiently academic".
In his FORSEA opinion editorial, State-Think and the Problem with University Education in Post-Colonial Societies, SOAS Professor and FORSEA Board director Michael W. Charney writes, "this closing up of genuine intellectual counter-spaces marks the critical moment when universities go from saying this is what the state wishes to teach you, to this is what the state limits your understanding to be. And they cancel the contracts for books, reject inviting talks by scholars, and ignore work that shows a different way to view one or another of the societies in the region."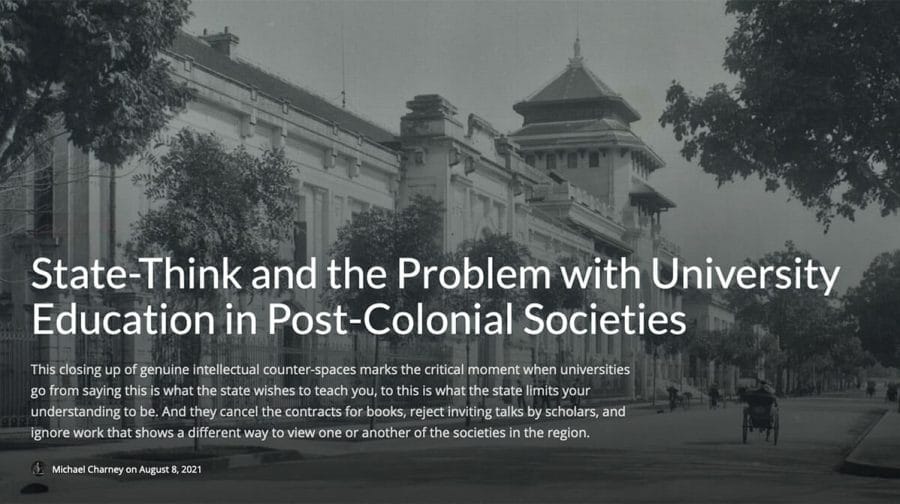 Even in the world's largest democracy – namely India – since the politics under the ruling Hindu Fundamentalist BJP and populist PM Modi shifted far-right and reshaped state institutions, the country's leading universities such as Jawaharlal Nehru University (JNU) and national educational project to revive Nalanda University in Bihar (originally built in AD 400 and continuously run until AD 1300) have suffered undue and unwelcome direct meddling by the political regime.
At JNU, Modi-appointed executives attempted to politically neuter the country's most socially and intellectually vibrant student body on campus by forcibly ending the annual tradition of adorning buildings in social sciences and humanities with wall posters and graffiti art with progressive ideas and thoughts.
In the fall of 2016, at Nalanda, Amartya Sen, the renowned philosopher and economist at Harvard University, resigned publicly from his leadership on Nalanda University Governing Board in protest of the Hindu right wing ascendency.
Two years ago, Thongchai Winichakul, renowned critic of political and social issues in his native Thailand and the eminent historian at the University of Wisconsin at Madison, lambasted at what he calls Anti-University. In the originally Thai language essay – republished in English translation in Mekong Review – Professor Winichakul writes,
(t)he anti-university produces docile people who stay inside the box. The anti-university destroys the individuality of its students. There is no university anywhere in the world that calls the police to arrest its own students simply because they think differently. The anti-university does not protect students or professors who are persecuted by state power.
In a society rich in intellect, the university is a source of evolved knowledge, higher education and the ethical ideal. In a society bereft of intellect, the anti-university is a desert void of knowledge, education and ethics, an instrument of power that produces the kind of citizens desired by Big Brother."
---
FORSEA Dialogue on Democratic Struggles Across Asia
9 am (Chicago) | 3 pm (London) | 8:30 pm (Yangon) | 9 pm (Bangkok and Phnom Penh) | 10 pm (Jakarta, Singapore, Kuala Lumpur and Manila)
---
FORSEA
Banner Image: The Performance Hall Foyer at West Core, Yale-NUS College. Yale-NUS is a liberal arts college founded by the Yale University and the National University of Singapore. Wikipedia Commons